Today, on 17th October the 5th meeting of entrepreneurs and leading representatives of the European EoC has started in Križevci, Croatia.
by Gina Perkov
The over 150 participants come from 23 countries: apart from Europe, there are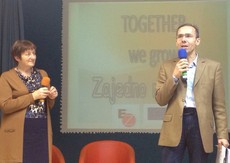 representatives coming from Brazil, Argentina, Congo and India, too! About forty young people from 7 countries also took part in the meeting – they were involved in the "exchange" project named "Together we grow: youth towards an inclusive economy" financed by the European Community: the project aims at an in-depth study of the EoC and will be running until Wednesday 22nd October.
The morning saw the introduction of the different groups first. We had a chance to listen to representatives of Portugal, Serbia, Germany, Austria, France and Belgium. The company cube was also presented and proposed: in a rather festive atmosphere where several languages are spoken, one can discover the joy of communion.
Anouk Grevin, professor of the University of Nantes/France then talked about the characteristics of the EoC and the profile of the entrepreneur of communion. Then she provided an outline for the principles of the "management of communion": trust, subsidiarity, authority that all can be expressed in service, collegiality in decisions, the relationship with others as a priority, reciprocity, gift as the dynamics of the relationship, gratuitousness as motivation etc.
The next presentation was delivered by the Slovakian company "Invivo" that produces and sells unique pieces of ceramics. Thomas and Cristina Hüttl from Ausburg (Germany) could not make it because of health problems. This, however, did not stop them from sharing the experience of their company involved in real estate management which was delivered through a video in which Thomas talked from his hospital bed where he is right now.
The afternoon was dedicated to workshops on different topics: "What do you need to create an EoC business plan and start-up?",
"The roads of inclusion of the needy on a local level in the life of the company of communion", "The spreading of the EoC project and its culture", "Management of the non-profit organisations" and many more...
These workshops were a great opportunity to enter into an in-depth dialogue and communion with all those present. Everyone participated actively, giving their own contribution to the dialogue. Independent of the size of the company, the EoC principles put in practice generate attention, enrich and inspire... The culture driving their daily actions has also been revealed: at the heart of it there is the will to build a more just world starting from one's own company and local community and reaching as far as the global network that they are part of.