The Multimedia Pole of the Economy of Communion was inaugurated on 25th August in Arny.
by Maja Calfova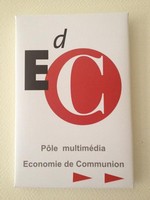 Imagined and strongly backed by 33 French EoC companies that work every day for the brave and great goal of having no more people suffering from need in the world. Inserted into the little town of the Focolare Movement in Arny, near the French capital, the Multimedia Pole is in fact a small work of art created by Jean-Michel Mahenc, Ingrid Portier and Marie Helene de Cherisey.
Inaugurated on Monday 25th August in the presence of a large representation of the International Commission of the EoC, the hall containing it was made with great care: two screens and a special technology allowing visitors to follow a 20-minute multimedia presentation in French and English presenting the idea of the EoC and its accomplishments. The Multimedia Pole is designed to be a place where people can be invited to deepen their knowledge of the EoC, while obtaining information on the project itself.
After having watched the video, one of the tablets made available can be used to get to know more about three topics:
1. "What the EoC companies wish to do" through 4 different experiences
2. "The culture of giving for everyone" through 4 expressions of life,

3. "What the experts say" through the responses of 3 university professors.
At the end of the tour visitors are invited to
write in the "Livre d'Or (Golden Book) expressing their own thoughts about the Pole they have just visited and about the EoC which is presented here through its various aspects. The Multmedia Pole: a place where you can meet people to gain an understanding together of how to move the ideas of the EoC ahead.
Bienvenue to the Multimedia Pole of the EoC!