The Economy of Communion's Third Congress in Mexico:
"EoC, a Proposal in Action"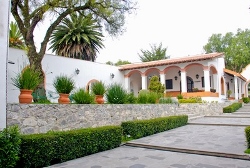 16-17 August 2014
Cittadella "El Diamante "
Acatzingo Puebla
Mexico
The Economy of Communion's Third Congress invites entrepreneurs and students full of enthusiasm and dreams to share in the communion of life and thought with the protagonists of the EoC project, along the road to a revolution of the spirit that has changed the lives of entrepreneurs, workers and consumers.
The Economy of Communion invites us, at this phase of impoverishment and decline caused by radical individualism, to be the inheritors of a "look" that for a long time has illuminated the path of development for the economic institutions of our civilization.
In fact, poverty is poverty of relationships and the "look" is charisma, a gift of the Spirit for the construction of the common good.

Faced with the poverty of relationships that is impoverishing everyone, "giving" explains its transforming power if the giver is close to the receiver, to give this
latter one the recognition of their equal value first. The "gift" takes the higher dimension of "free gift" (gratuitousness) when the giver takes the risk of proximity to the other person, establishing a relationship of mutual brotherly love, that makes us brothers and sisters, and creates a shared material and cultural heritage: communion. Thus, entrepreneurs and employees belonging to the EoC have managed to overcome a life of resignation in order to gain fulfilment and happiness.
Inspired by this, for over 20 years the 800 EoC companies in the world have thoroughly transformed the relationships that exist within their organizations and between them and their communities, customers, suppliers, competitors and the public administration. The Economy of Communion businesses go beyond the contemporary models of companies that generate wealth in a "resigned" way and donate a portion of their income, thereby declaring themselves socially responsible.
During the
Congress we will have the opportunity to share our thoughts and experiences about the life and the path established with the help and contribution of the thought that regulates, identifies and communicates it. Our partners in this shall be the EoC entrepreneurs from various parts of the world and the experts of the International Commission: Luigino Bruni (Coordinator of the International Commission of the EoC, LUMSA University, Rome), Anouk Grevin (Member of the International Commission of the EoC, University of Nantes / France) and Luca Crivelli (Member of the International Commission of the EoC, Italian University of Switzerland).
During the Congress we will get acquainted with the path beaten by the EoC in Mexico, Central America and in other countries of the American continent. We will also be thinking of 'the aftermath that is about to come true: the dream that we are building, so that we can show our participation in this dream, as academics, entrepreneurs, workers or as the protagonists of the culture of giving.'
Download the

flyer