A 'historical' Skype conference brings the United States and Australia to meet over EoC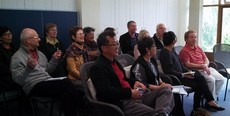 Technology, as we all know, cuts the distance ... and so it is possible for a small group of people interested in the EoC in Australia to communicate with an American entrepreneur willing to share his experience. This is what happened on 17th May in Melbourne in what our Australian correspondent Lorraine Lipson calls "our historical Skype connection between Melbourne and Indianapolis with John Mundell". 
"Our Skype meeting with John," says Lorraine, "was held in Melbourne on Saturday 17th May 2014. We were a group of 14 people, including 3 new entrepreneurs, a young man interested in the subject of business and a professor of Economics at Monash University."
"This latter person,"  Lorraine continues, "demonstrated a deep understanding of the uniqueness of the EoC and its value throughout the exchange with John."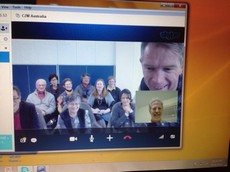 The objective of the meeting was to go through the vast experience of John Mundell on EoC by a series of questions prepared for him in order to create a spontaneous exchange among those present. John Mundell has expressed his willingness to continue the relationship that had just begun, by providing a range of support materials and contact with EoC businesswoman Teresa Ganzon in the Philippines.
Lorraine concludes, "So now a small first group has been created for the EoC in Australia: we have a new entrepreneur, and then there is Mark Kelly and myself as new referents. The meeting with John was a concrete and important step in the development of the EoC here in Australia."