On Monday 28th April the EoC was introduced in Medellín, during the Forum entitled 'Alternative Economies and Sustainable Development: Challenges for Latin America'.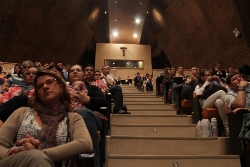 Some three hundred people, mostly students and professors, participated in the introductory presentation of the Economy of Communion held during the Forum organized by UNESCO and the Pontifical Bolivarian University (UPB) on Monday 28th April in order to share alternative proposals for sustainable development.
The event was opened by the rector of UPB, two presidents of the Università di Antioquia and UPB, a bishop and a representative leader of the UNESCO Heritage Club.
Presented by Antonio García Garcimartín, the Economy of Communion was received very well. There were many people who expressed personal interest and their wish to participate in the project: among them there was a co-operative, another university and various representatives of the mass media.
An important step to move the EoC forward in this great and beautiful country has been taken.