The First Steps Towards the EoC Erasmus Project in Rotselaar, Belgium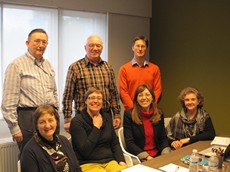 A first "brainstorming" meeting took place in late January at the Polo EOC Solidar (Rotselaar, Belgium), among Polo Lionello (represented by Eva Gullo and Irene Giordano) and the Polo Solidar (represented by Trees and Verhegge and Koen Vanreussel).
These were intense and fruitful days that took place in an atmosphere of great joy, in which we met to gain a better understanding of the role of Poles in the function of consolidation in the future of the EoC project.
A "network" between the European poles to create a kind of Erasmus for EoC entrepreneurial talents: this is the proposal that emerged in Lisbon during the meeting of the EoC committees last October. We tried to focus on this during the first part of our gathering in Rotselaar. How to give substance to this idea? Certainly the EoC Poles have some common objectives: they must develop the Economy of Communion and its culture by giving birth to new businesses in the poles and in the surrounding areas; they have to invest in the formation of 'new people'; they should try to establish and operate a network with each other; and an undoubtedly very interesting opportunity is offered by the European programmes for the promotion of entrepreneurship and trade between the EU states.
The opportunity to meet with the Board of Directors of the Polo Solidar was very significant: we were confronted with the current state of the poles, reading and commenting along the Regulations of the Polo Lionello and sharing some of the practices adopted in the different poles about governance, relationship with entrepreneurs or partners.
'We have experienced', Eva Gullo tells us, 'that it is very important to get to know each other better, to penetrate deeper and more specifically into the characteristics of the individual poles, which together will enhance one another, and become capable of expressing what is more and truly original – to be in communion with all – that can be put into service.'
She continues: 'Thinking of a European Pole, for which Lionello could play the coordinating role of constituting a sort of hub of the network, we examined the project "Erasmus for Young Entrepreneurs" of the European Community, and we started working towards the creation of the conditions to be able to join in the project together. The programme guide sets the prerequisit of a network of five European partners acting as intermediary organizations to manage the exchange of young entrepreneurs in host companies in different European countries: an objective that is precisely fitting with the EoC project.'
Our work will continue in this direction in the coming months, involving the other poles and other interested EoC realities. 'As we said good bye to each other', Eva Gullo concludes, 'we had the strong feeling of joy over bringing forth something new that is highly consistent with the history of the EoC ...in order "not to miss our date with history!'
Translated by Eszter Kató