The first meeting of the year was held by the local EoC Association (AECOM) in Kinshasa (Democratic Republic of Congo) 
by Gibby Tshinoka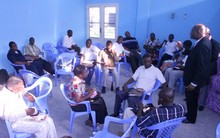 27 entrepreneurs (7 members and 20 sympathisers of the Association) attended the first AECOM meeting of 2014 on 25th January in the city of Kinshasa. It was an opportunity to share the goals achieved by the Association in 2013 and to propose an overall programme for the first half of 2014.
The meeting was held at the M. Moyi mwa Ntongo Centre: an unconventional arrangement of the chairs to encourage exchange among entrepreneurs, a welcome address given by the president of the Association Corneille Kibimbwa, and a cocktail offered by the local EoC committee - these were the ingredients of the afternoon spent together.
In 2013, as it was highlighted by Corneille, AECOM's activity was characterised by various training sessions, a dozen conferences and a few trips that allowed the exchange of experiences between entrepreneurs; some entrepreneurs were "accompanied" by the association in their important steps and a few people in the state of poverty were given support, too.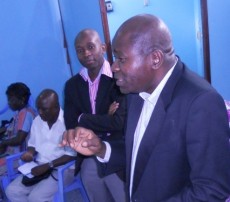 "All this, "Corneille continued, "has been possible because we all lived the principles of EoC together: we believed in the culture of giving, we shared part of our profits with those who live in poverty, we experienced the communion between entrepreneurs and were willing to participate in trainings at least twice a year, we have given testimony as EoC entrepreneurs freely. In fact you do not live the EoC alone, it is very important to always be networking with other entrepreneurs."
For the first six months of 2014 a series of events has already been planned: the first is on 15th February, a seminar at the Aero Club of Ndolo with air operators, followed by 3 occasions of EoC training at the headquarters of the Association (in the multipurpose room of the M. Moyi mwa Ntongo Centre), on 1st March, 3rd May and 7th June, respectively. On 30th April there will be a further thematic seminar at the Protestant University of Congo on "EoC and Teaching"; and, finally, two trips to raise awareness of the EoC in Bukavu, in the Province of North Kivu from 3rd to 6th April and one from 12th to 19th June in the city of Lubumbashi, in the Province of Katanga, which has been already visited several times.
The meeting ended late in the afternoon. Looking at the faces of the attending entrepreneurs, their joy was palpable; many of them have invited the Commission to visit their local EoC companies in the course of this year. The dialogue continues and the EoC network in Congo is becoming more and more solid.
Translated by Eszter Kató