Workshops on EoC at the first Conference for the New Evangelization in the Philippines
"Behold, I make all things new."(Rev 25: 1)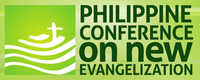 The conference (PCNE) was the response of the Archbishop of Manila Mons. Tagle to the thrust the Church has given this year to new evangelization.
Three days of meetings were held for "evangelists" of various denominations, that is, not only Catholics. 5,000 people attended from all over the Philippines, but also from some of the neighbouring countries such as Brunei, Taiwan, Vietnam and Myanmar.
The conference was held in Manila at the Pontifical University of Santo Tomas from 16th to 18th October and it began by a holy mass attended by crowds, in a packed church. Listed among its goals was to help create an experience of God amongst the challenges of the new millennium, to strengthen the bonds of communion within the Church, to provide some paths for inspiration and direction animated by a spirit of mission.
Economy of Communion was asked to provide a 2-hour programme to the effect of empowering the laity towards social transformation.
It was one of the 10 paths of communion offered during the 2nd day of the conference. An interesting group of people participated at the workshop. They were 31 all together and they formed a rather heterogeneous group: starting from a fair group of nuns to lay catechists, from a priest to various representatives of the academic world.
The program was composed of a presentation of the EoC and the culture of giving as its foundation, followed by the testimony of EoC companies, Bangko Kabayan and real estate agency Sulyap. Many questions arose in the final debate, some of them were specific ones on the practice of EoC. From the conclusions it emerged that everyone can live the EoC no matter where they are.
All in all, it was an almost "intimate" encounter between people who met the principle of the EoC for the first time, a moment of effective new evangelization, in which we could hear the principles shouted "from the rooftops."