"Take the risk and think big" - The young students of the first Summer School in Lisbon hand over the flag to the participants of the second edition which starts tomorrow, September 11.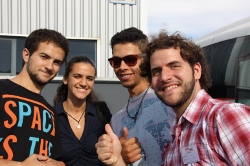 Expectation is high at the Mariapolis Center Luminosa. Young people begin to arrive, especially those who come from far. About sixty youngsters from fifteen nations enrolled in the school.
The participants of the Summer School of Lisbon in 2012 sent the following message:
"Dear students and professors of the second Eoc summer school,
We joined the summer school last year and it has been a rewarding experience and we would like to wish you a great time of work and fun as the 2nd summer school starts. Every inch of the memories is worth every penny, worth every sacrifices and worth every challenges. We had the opportunity to strengthen our EoC knowledge, to build friendship and renew our commitment to EoC mission and values.
During that week in Lisbon we worked together to think of a better future; to create a change in our every day lives by starting with ourselves. We have immerse our whole self to the reality of the school, with each one. We tried to dream new strategies to spread EoC values. We learned that a just economy requires our workforce and our commitment. So, we would like to wish you all the best to make the savour every moment of this opportunity.
Play the game and think big.
Mie-Ann (Manila) and Valeria (London)"
See the 

program