The second EoC Congress of Mexico in Puebla was entitled:
Person and Communion:
Giving New Basis to Economics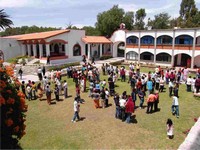 August 24-25, 2013
"El Diamante"
Acatzingo, Puebla (Mexico)

The first EoC Congress in Mexico was held last November and introduced many to how innovative the Economy of Communion is, leaving everyone with a strong desire to follow its path. That is the reason why, only nine months later, we planned a new meeting.
There are so many topics to be addressed, and each one is very interesting because the principles of the Economy of Communion compels us to examine and question the many aspects of economic life.
This time we will focus on the theme of relationships within companies, with competitors, with suppliers and within the social context of each company.
How are the relationships within a company? What does it mean to be in communion? Is it possible to build a network of relationships at work so that very different people experience communion? Furthermore, does this have anything to do with the economy, with work, with productivity and with quality?
These are some of the questions that we will attempt to answer. Some EoC entrepreneurs will speak at the Mexican Congress as special guests: John Mundell from the United States, president and founder of the Mundell & Associates, Inc. of Indianapolis; Jorge Germán Dimaco SA, Mónica Zalazar of Nogal Maderas and Francisco Cerviño Sushi Soul from Argentina.
This congress, organized by the local Mexican Commission of the EoC, intends to spread this culture in communion with Argentine and North American entrepreneurs.
For more information, please write to: This email address is being protected from spambots. You need JavaScript enabled to view it.