This afternoon, as part of the "World Day for the Eradication of Poverty", Florencia Locascio will present the experience of the Economy of Communion
by Giulia Pongiglione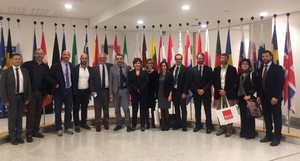 The title of the event is "Answering the Call of October 17 to end poverty: A path toward peaceful and inclusive societies"; organized by the European Intergroup Fighting against poverty, in defence of Human rights, and ATD Fourth World, through a great work of advocacy for the creation of this day and the promotion of the intergroup and an ongoing collaboration with the EoC for the organization of a conference on Prophetic Economy in October 2018.
Luca Attanasio, journalist, is in the Team of Silvia Costa who is a European Parliamentarian.
He explains the reason for this day and the goals of the intergroup: "The idea is to put the European directives aimed at eradicating or at least reducing poverty in the world into practice. This is currently number one of the Sustainable Development Goals (SDGs) for the next fifteen years (2015-2030). It is number one precisely because it is the greatest urgency: a drastic reduction of poverty and indigence in the world. Number two is to reduce hunger, which is therefore a very contiguous objective. The European Parliament adopts these guidelines and tries to find ways forward.
The debate that has been organised today by various MEPs is aimed precisely at tackling the pockets of poverty that exist in Europe through reflection enriched by the presence of a really large number of NGOs, non-profit organisations and associations dealing with this phenomenon
in Europe (and beyond). The peculiarity of these organizations is that they act by finding innovative ways, alternatives to the prevailing economy, not so much by providing direct assistance, but by imagining methods that help people in need to get out of their condition and, in a certain sense, to help themselves, to help each other together. This afternoon, the Italian delegation will present some very interesting and innovative experiences to suggest alternative methods to parliamentarians, which should then be made as operational as possible. At the same time, it is an attempt to join small or large organisations that are not yet connected into a network. I believe that we need a network and a system of intervention in order to combat such a serious scourge as poverty. And the organisations that will be presenting today are a great inspiration to work on this goal."
The afternoon session will be opened by Antonio Tajani, President of the European Parliament, followed by Ambassador Clyde Kull. After that, a first part will be dedicated to sharing economy (and this is where Florencia Locascio will present the EoC) and a second part, dedicated to the European social commitment to support the needs of the poorest. The event will conclude with a commemorative ceremony in honour of the victims of extreme poverty.
The afternoon programme is available at this link: http://17october.ie/mep171017/