The usual September EoC meeting of the Southern Cone was held in Montevideo: the impressions of our envoy
by Carolina Carbonell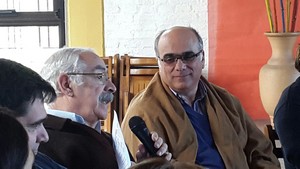 It is 23:30 on a Friday, 15 September. It's a cold winter night. The station is bustling with people, everyone on their own journey and with a vital route to pursue. Three adults, supplied with a thermos and a large bag, offer coffee to reduce the cold and a sandwich to eat. It's a beautiful gesture that prepares our heart for what is coming later.
At 8:45 the bus arrives in Montevideo. Roberto is waiting for me on the platform, extending his hand to me with a coffee in it and telling me to call him by his first name. He accompanies me to the get-together where 50 people, including Argentineans and Uruguayans, entrepreneurs, researchers, workers and philosophers, will meet. There are three philosophers, so we can almost say that they are in majority.
There are two days to come, full of experiences, pearls and ribbons that I commit to cherish and pass on as our narrative capital, which is the most important we have. There are many stories, but it is Renzo's story that seizes my attention from the start.
"For some reason, Raúl Di Lascio was informed that a certain Renzo would be arriving in Buenos Aires from Paraguay. Renzo was forced to temporarily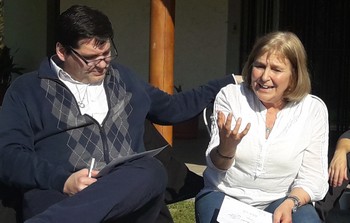 leave his family when their economic difficulties were no longer sustainable. He did not know much about construction. Nevertheless, Raúl created a job for him and assigned him to one of the construction sites. Over time, Renzo learned a lot to the point of becoming almost essentially needed for the new projects that the company took on. Not only his responsibilities were increasing but also his relationship with Raúl was on the grow. He occasionally returned to Paraguay to see his family, until the time came to make a final return home. On 24 December the telephone rang at Raúl's home. It was Renzo. As soon he had the line installed, his first phone call was to greet his friend."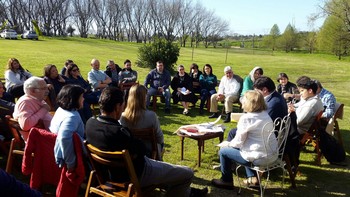 When the microphone for the final impressions is about to reach me, I think that in this world, where the libraries are full of self-help books, there should be a section called "help others".
The reason for these get-togethers is to meet so as to tell our stories and give thanks. "It's what helps me to continue experimenting," says Germán.
Aldo tells us about his dream: a get-together where everyone is present, a manifold and diverse community. Including those, too, who feel they possess nothing and are only recipients of the EoC. Maybe when they tell about their experiences, we will be more credible.
The old troubadours were artists who walked the streets singing, bringing news and opening up spaces. Ceci Di Lascio tells us that once she was asked to present the EoC together with Horacio Pirotta to a group of politicians. At the end of the day, someone told them, "Do like the troubadours: sing about it, so that it may become everyone's".