There was a workshop with many participants at the EoC Co-working Space in Mannheim at the end of May. Participating entrepreneurs and business managers decided to meet regularly
by Andrea Fleming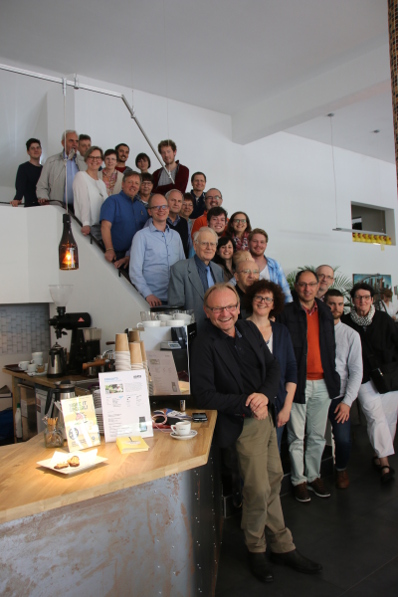 "My wish for the future? I would like us to meet regularly - at least 4 times a year!" This is the balance drawn by one of the participants of the Economy of Communion workshop held in Mannheim at the end of May.
About 30 entrepreneurs and business managers came from various parts of Germany in the Neckar region to visit the new "Co-Working Space" and learn more about the four entrepreneurial and training projects running there, with their challenges but also their first successes.
Michael Zillekens, with Röser-Zillekens GmbH is one of the initiators of the shared entrepreneurial space project, which was officially inaugurated a few months ago. He remembers when he and his partners decided to buy the large hangar and make the office area available to other young people to take advantage of the synergies and encourage exchange and mutual encouragement. This is where Elizabetta and Johannes Epping with Stephan Schwarz saw the opportunity to realize their dream of having their own coffee roasting plant and some space to open a small bar to offer their coffee specialities. In the meantime, they have developed the idea of ​​creating a "mobile café" with which to go to parties and markets to make their products known and sell them.
Three young engineers moved into the complex, too, with their small office. They work in the field of
of sustainable energy and they enjoy the exchange with other entrepreneurs from outside their sector and the encouragement they receive. The fourth partner in the "Co-Working Space" is Starkmacher e.V., an educational initiative that seeks to support and develop young talents throughout Europe, connecting them in a network.
"I'm very impressed with the expertise I've seen here and I've learned much about the potential of the online market. Your projects are completely up to date," said Theo Naarmann from Neuenkirchen after having learnt about the 4 projects. He himself has been trying to share his experiences with other entrepreneurs for many years now and is committed to a solid and sustainable economy in the economy of communion. He has recently passed the baton of his dairy production company to his children and is always excited when he meets young people who have a good idea, the necessary skills and competence and find the courage to start a business: he gladly supports them with advice and encouragement if he can. Otto Rüdiger, an entrepreneur in the construction field of Leverkusen, also expresses his respect and esteem in front of his young colleagues: "I found great serenity and casualness here."
In the afternoon we enter into a vivid exchange on the future prospects of young people who intend to start an entrepreneurial activity and on the conditions and training they need to survive economically and develop in a way that they don't keep in mind their profits only but also the needs of society.
As a result of this EoC workshop in Mannheim at the end of May the determination was born to meet regularly for an exchange beyond the respective professional scopes, to receive spiritual inputs in support of each and everyone's entrepreneurial engagement. They are all entrepreneurs who seek collaboration with other professional networks and want to sustain themselves and get help in their commitment for an integral and communion-oriented economy. And for that, a look beyond one's own reality seems indispensable.
The next step? Collaboration with Starkmacher to strengthen the international network and to organize and support training activities for new entrepreneurs.