Civil economy has made it to the 7th Asia Future Forum, to be held next week in Seoul. Luigino Bruni will deliver a presentation.
by Antonella Ferrucci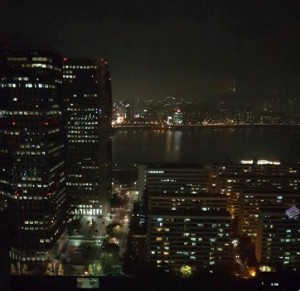 Happiness and civil cirtues, also in the economy: if there is a timely argument in Korea today, this is the one. Across the country there are some really acute questions about happiness: perhaps because of the economic crisis the effects of which are still being felt, or because the public opinion is beginning to realize that happiness is not so tied to the GDP and to consumerism, or because of the upcoming presidential elections, with the various candidates competing to catch the mood of the Koreans. Even the birth of a strong protest movement that emerged as soon as some very questionable moves of the current president were made public (a million people demonstrated peacefully, holding candles in the streets last Saturday), it is emblematic of this thirst for happiness and civil virtues.
The 7° Asia Future Forum is entitled: "Beyond the GDP, the goal of happiness for everyone" and it will be held on 23 and 24 November in the prestigious Conrad Hotel in the centre of Seoul. As it is paying particular attention to civil economy, it seams to intercept these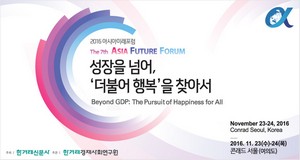 questions. Luigino Bruni, who was invited expressly to make a contribution as a civil economist, will deliver the keynote speech at the opening of the Forum dealing with public happiness and relational goods and moderate the round table discussion "Recommendations and requirements for a world of shared happiness." In the past few days Hankyoreh, a popular daily that promotes the Asia Future Forum published an interview with Bruni, echoing these arguments. Let's read a few excerpts.
In that sense does civil economy pursue the happiness of people?
Civil economy is the economy that's built on the primacy of the relationship between people and while recognizing the importance of wealth and income it suggests that economic goods become well-being only inside good social relations.
What's the relationship of civil economy with the market?
Civil economy is a market economy: there is no civil economy where the market does not have a central role. Central, however, does not mean the only one: civil economy acknowledges that apart from the market some other principles are also required that turn it into a civilizing place. These principles are: reciprocity, gratuitousness, the redistribution of wealth by the state (through some kind of taxation and employment), justice and subsidiarity. But when the market with its logic of exchange without gratuitousness wants to become the sole principle of social life, society becomes sick and welfare decreases. So while a market economy is good, it is not as good as a market society.
If participation, friendship, love and civil dedication bring happiness through relationships between people, what is the true form of participation, friendship, love, dedication in terms of production and consumption?
The interpersonal relationships that we economists call "relational goods" are both production goods and consumption goods. How come? Just think of work. If a work team is very harmonious and does not develop conflicts, if it is able to cooperate and if it is composed of positive and collaborative people, it then has an "asset", a "capital" of the relational type that allows it to function better from the business point of view (more creativity, faster processes, smoother decisions). But relational goods are also consumer goods because when I go to work and I have a good relationship with my colleagues, this relationship nurtures me, it increases my well-being just like when I eat lunch or buy clothes: there are few things more beautiful than working with people with whom there is a good relationship: one gets up more joyfully, steps into the office with a smile and the quality of life grows.