On August 11-12, 2016, the North American Economy of Communion Association presented the Economy of Communion at the Montreal World Social Forum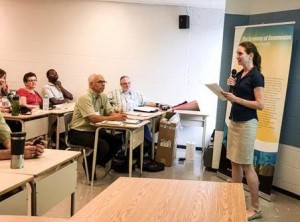 Three bilingual (English and French) workshops were presented: one on 'The Work Environment and Company Values' (Environnement de travail et valeurs d'entreprise), and two on The Economy of Communion: Hope in Action (L'Économie de communion : l'espoir à l'œuvre). The workshop introductions were presented by John Mundell of Indianapolis, Indiana USA, the owner of Mundell & Associates, and Michel Rondeau, from Montreal, Quebec, owner of Services Conseils Michel Rondeau Inc.
During the sessions, approximately 70 participants from Canada, USA, and Asia and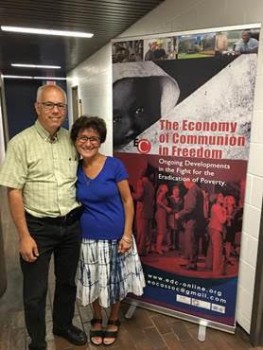 Africa, listened attentively to the experiences shared by a number of workers and entrepreneurs. In particular, Anne Godbout, Gilles Aubin, and André Roberge brought to life their experience of living the ideals of the EoC with co-workers, clients and even competitors. The Company Cube was proposed as an effective way of changing the culture of an enterprise using small but significant actions. The local Montreal and Quebec community provided excellent support for translations and logistics for the two days.
John Mundell shared his experience of those days: "For me it was a great joy to see that the values we are promoting in the Economy of Communion are shared by many people around the world, and that the efforts we are making in the world of business are seen as significant signs of hope for many others."