An account of the 37th EoC meeting entitled "An economy for all: 25 years of building social cohesion"
by Carolina Carbonell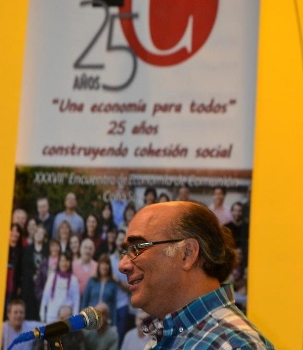 The Mariapolis Lia was dressed in sunshine to receive about a hundred people "invited to the banquet", coming from all over Argentina to participate in the EoC meeting "An economy for all: 25 years of building social cohesion".
"Only 'new men' can build social cohesion, a new economy, the united world," said entrepreneur Aldo Calliera in his opening speech of the meeting, talking about mercy in economic life. It is a type of mercy which is expressed in three movements: that of the eyes, the bowels and the hands.
"Mercy, which is a gift and not an acquired merit, begins by seeing others who are in need with new eyes ... Then the bowels: if we are not capable of indignation in the face of injustice, we are not capable of mercy either, unable to be moved upon seeing a person who has taken on the wrong way ... Finally, hands: it is not enough just to be moved, you also have to act, react and rebuild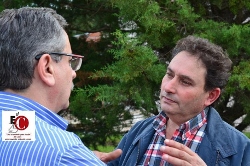 broken relationships. Mercy is action; it is a virtue and not just a sentiment."
In this extraordinary reflection on the immense need for mercy that is there in our companies, the testimony of two entrepreneurs echoed nicely. They had been robbed by an employee, whom they have forgiven by the "agape" kind of forgiveness which comes with an embrace even before the other says "forgive me".
The Polo Solidaridad: what's new and the birthday cake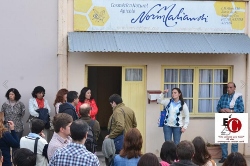 The visit to the Polo Solidaridad was a moment of great joy, where attendees were able to hear the experiences and testimonies of faithfulness by Pepe Marín (Primicias) and Norma and María Luz Maliandi (Cosmética Norma Maliandi) and celebrate the expansion of Pasticcino company, which continues to grow, thanks – among other things – to the contract with Starbucks multinational, which was closed in a providential way:
"A group of Japanese people was visiting Mariapolis Lia and someone suggested them to visit our company. At the end of the factory tour one of them told me: 'Gonzalo, do you know that I am a friend of the CEO of Starbucks?' Not only did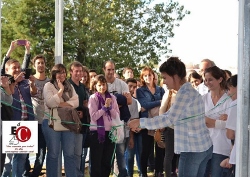 he arrange a meeting but he also gave me the key to success: 'Tell him your life story, how you started making cookies in the kitchen at home, talk to him about the EoC'. I did so and it turned out a spectacular moment of reunion. Today we have a great relationship. The Christmas cookies we produced for them were an absolute number one in sales, displacing the unbeatable Starbucks Gingerbread!"
Raúl, one of the pioneers of the Argentinean EoC entrepreneurs, cut the cake of the 25th anniversary: "An experience that will last forever." Ramón Cerviño sent a message for the occasion: "In this same place, 25 years ago, together with others who are now present there with you, I heard the announcement of a new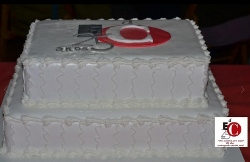 reality that was being born: the EoC. We were impressed, struck, fascinated and above all, we felt invoked. We were proposed a way of life to share, to show that even in the world of economy there may be fraternal and inclusive relationships. At that precise moment we committed collectively to acquiring the land of what is now the Polo Solidaridad (Solidarity Business Park) with the dream of making this reality visible. ... Let us enjoy the banquet, regenerate the dreams, invite those participating in the party for the first time to dream with us."
Those who are joining us from up there, and the newcomers .
Remembering those who have recently "departed"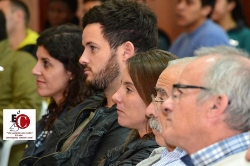 and now accompany and guide us from up above was a very touching moment: Aida Falcone, an entrepreneur from Rosario, who liked to be called "EoC granny" and the unforgettable Leo Andringa.
Another special moment was the testimony of new entrepreneurs Lucas and Horacio: a few months ago they set up the "Diporá" project for the sale of dog food. The best part was their experience of accompanying, not just in the economic sense, that they have been through with other EoC friends, which was almost a shared management. Furthermore, as a sign of providence, the sum total of the first sales doubled and then tripled the projections they had done according to the market study.
Politics and economics meet.
Veronica, representing MPPU, shared their experience of the project they are developing in northern Argentina, where 900 families of indigenous peoples who have a serious problem of unemployment are being helped to learn a trade and then begin production activities through a micro-credit system. Several public and private organizations are involved in this initiative, including the EoC. As Veronica was speaking the need to act together, each one with their own focus but acting together was increasingly highlighted.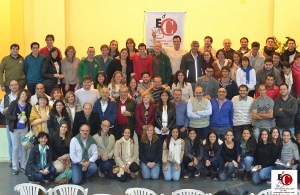 They are all expressions of a lifestyle that is attracting to people, as it was to Mariano, for whom this was the first time to participate at an EoC meeting: "It was the first meeting of many more to come, so I hope. I felt the open arms of each one of the participants. I experienced the communion that arises when we put man as the centre of all human thought and action. It was an amazing and unforgettable experience."