The Movement for Economy of Communion will hold its first Pan Asian Congress from May 25 – 29, 2016, at the Mariapolis Peace in Tagaytay City.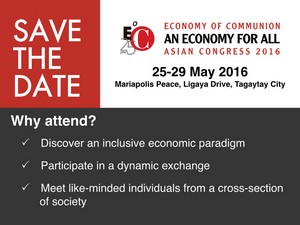 Invited are all interested advocates of a different way of viewing economy and doing business that is characterized by communion, fraternity and solidarity, especially with the weakest sectors of society.
The congress hopes to bring together entrepreneurs, professors, young people and members of civil society with a passion for changing the business world, understanding in depth the challenges facing Asian nations despite the unprecedented economic growth of the past years, due to a continued adherence to the capitalist model and concept of economics – and what the economy of communion can offer to make the changes more meaningful and inclusive.
Economists expected to be give their inputs in the congress include members of the international commission – Luigino Bruni (Italy), Anouk Grevin (France), Lorna Gold (Ireland), Teresa Ganzon (Philippines) and Luca Crivelli (Switzerland). Invited as a guest lecturer also is Dr. Annette Pelksman-Balaoing of the University of Rotterdam, Netherlands, to give a perspective on Globalization and how it has affected Asian nations in the past decade.
It is expected to draw participants from different nations in Asia, as well as Australia.
The EOC Pan Asian Congress will also have a celebration of EOC's 25th anniversary on May 28th, even of the actual anniversary date on the 29th.
Go to the EoC Asia web-site
Register
More info: This email address is being protected from spambots. You need JavaScript enabled to view it.