On 16 and 17 October in Mariënkroon (Nieuwkuijk ) and Utrecht
by Antonella Ferrucci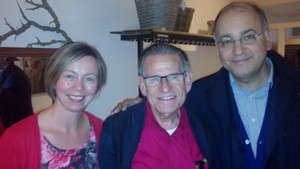 Gratuitousness in economy: this was the leitmotif of the two events that took place last weekend in the Netherlands, on the initiative of the Focolare Movement and the Thomas More Foundation.The first event, defined by the organizers as "Expert Meeting" was held at the little town Mariënkroon of the Focolare Movement in Nieuwkuijk between Friday afternoon and Saturday morning: 18 university professors from 8 universities and institutions of higher education (including the Belgian University of Louvain) met to explore the theme of gratuitousness in relation to the economy.
The meeting was held in four sessions, each consisting of a short introduction and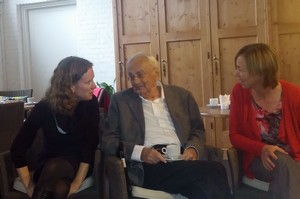 followed by a lively and rich discussion, where different perspectives on the market, the economy, doing business, gratuitousness and charisma were compared and contrasted.
In the first session Luigino Bruni presented his thoughts on the market as a meeting place rather than a venue of competition, generating a very lively dialogue. After that, the Economy of Communion was presented thoroughly by Leo Andringa, Lorna Gold and Belgian entrepreneur Koen Vanreusel.
In conclusion: there was a rich interdisciplinary exchange of a high academic level, without any competitive spirit but in an atmosphere of openness and friendship - even by virtue of differences in terms of their respective disciplines -, from which there emerged the urgency to perceive the economy as a chance to work in a civil culture. The dialogue on these topics, which proved very fruitful, will certainly continue in the future, too.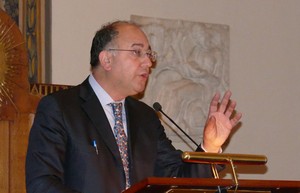 On Saturday 17 October the Academy Building of the University of Utrecht hosted the "Thomas More Lecture" in the afternoon, featuring Luigino Bruni, on "Economics and love: Eros, Agape, and Philia". In the conference Luigino Bruni described the three forms of love (eros, philia, agape) highlighting their characteristics and the importance of each of them for the common life, with particular reference to the economic environment. The more than 250 who were present got very involved by the argument and the colloquial way in which Bruni addressed them.
At the end of the conference the authors, Luigino Bruni and Alessandra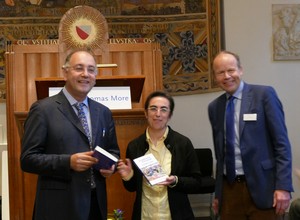 Smerilli, were given a copy of their latest book, hot off the press, entitled "De ongekende kant van de economie," which is the Dutch translation of "L'altra metà dell'economia" ("The other half of the economy"). The book, published by Nieuwe Stad Publishing house (This email address is being protected from spambots. You need JavaScript enabled to view it.), sold like hot cakes after the conference. The back cover explains the meaning of the title - The unknown side of the economy in the Dutch translation -: the market is not the only operating mechanism of the economy, but there is also a force that's too little known: gratuitousness. People do not work as calculating individuals seeking only their own interest: a strong drive to make something beautiful and good is also present in human nature. Sometimes this force, gratuitousness, takes an exceptional consistency, and that's charisma, the authors explain, which is a contagious and permanent source of innovation.
See

photogallery