The North American Association of the Economy of Communion and the Catholic University of America invite you to attend the 2015 gathering of the EOC:
A New Economy For A United World:
meet. share. create. change.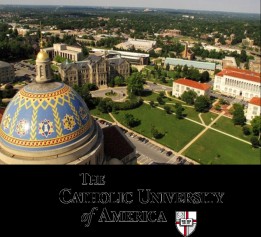 July 17-19, 2015
Columbus School of Law
Auditorium, Room 204
The Catholic University of America
3600 John McCormack Rd., NE
Washington, DC 20064 
June 30, 2015 Deadline To Register And Secure Lodging At CUA. In today's world, globalization presents to us significant challenges such us poverty, inequality, unemployment, forced migration… All these situations make us question if this is the world we want, if the economy can change for the better.
The Economy of Communion (EOC) offers a new perspective facing these challenges: a new culture, a culture of giving, that fosters fraternity, social bonds, sustainability and communion, rather than individualism and profit as an end in itself.
If you believe that you are a crucible of a new culture, if you are interested in seeing businesses and an economy where people are put at the center, we have an experience lived out by hundreds of businesses and thousands of people to share with you.
Join us at the 2015 EOC Meeting, as we increase our network in moving towards this new culture, where we become actors of visible change.
Objectives of the Meeting
•    To explore how the EOC leads to person-centered businesses and a more solidaristic economy
•    To acquire a deeper understanding of the values, culture and operating principles of
businesses and professionals animated by EOC principles
•    To enkindle passion, enthusiasm, creativity… and understand how we can form a strong EOC network in North America
•    To work collaboratively in defining the mission of the EOC in North America for the upcoming year
•    
 "Every economic and political theory or action must set about providing each inhabitant of the planet with the minimum wherewithal to live in dignity and freedom, with the possibility of supporting a family, educating children, praising God and developing one's own human potential. This is the main thing; in the absence of such a vision, all economic activity is meaningless."
The agenda of the meeting will include a mix of educational sessions, experiences and workshops.
Including:
Welcome Address: Prof. Andrew Abela, dean of the school of business and economics at CUA
Keynote: The EOC Vision – Exploring how the EOC leads to person-centered businesses and an economy that fosters solidarity, by Prof. Luigino Bruni of Sophia University and head of the Int' Commission of the EoC
Case study: CUA Integral Development analysis on use of proceeds: Cafe con Leche school vs. comparison school
Panel Discussion: The EoC, Hobby Lobby, Culture and Politics – with Amy Uelmen of the Law School at Georgetown University
Experiences: the EOC in action – entrepreneurs, academics, students, young professionals
Workshops: developing operating practices in EOC businesses
Workshops (cont'd): building a strong EOC network in North America; defining goals for the upcoming year
Tour of DC by night
Registration Fees
For meeting only. Accommodations & meals are excluded.
Non-Members: US $75

Members of the EoC Ass.n: US $50
Students: US $30
Day rate: $25
Registration & Payment
You can register and make your payment via credit card by clicking on 'Register Now'  and by selecting the relevant registration option.
Please note that a service charge by the credit card providers and the payments processor eventbrite will be added to your registration fee. It will be listed next to each registration option before you make the actual payment.
Lodging: http://eocmeeting2015.org/lodging/
FAQ: http://eocmeeting2015.org/faq/
Contact us: http://eocmeeting2015.org/contact-us/
Go to the: EOC meeting 2015 website