The Economy of Communion was featured at a "Higher Calling" event organized on April 14th, 2015 by the Opus College of Business of the University of St. Thomas and the John A. Ryan Institute for Catholic Social Thought.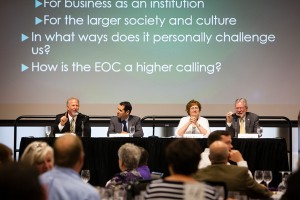 130 people attended the event. Among them entrepreneurs, academics, students, young professional and members of local faith groups.
The title of the event was: "The Entrepreneurial Vision of the Economy of Communion: Creating a Business Where All Can Flourish".
Prof. Jeanne Buckeye of the John Ryan Institute made un introductory presentation of the EOC that was followed by the experience of two entrepreneurs - Nick Sanna and John Mundell - and an analysis of the EOC led by Prof. John Gallagher of Maryville College TN.
 A vibrant panel discussion and Q&A session with the audience concluded the evening.
The audience was very engaged and the Q&A session had to be interrupted while questions were still pending to conclude on time. Many of the participants told us that they wanted to learn more about the EOC and some indicated the interest to turn their own business into an Economy of Communion business and their intent to be the first ones in the Twin Cities.
Our trip to the Twin Cities concluded by a formal invitation by Prof. Michael Naughton of the University of St. Thomas and the John A. Ryan Institute to host our annual 2016 meeting at the University of St. Thomas.
We are excited about the possibility to continue develop our partnership with those institutions and to support the nascent EOC community in MN.
The VIDEO of the presentation is accessible here: