Last weekend there was a conference in Loppiano bringing together movements from across Europe to think about economic forms oriented to the common good.
by Licia Paglione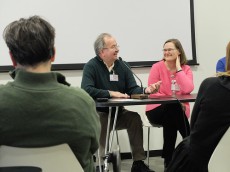 "Towards an Economy for the Common Good". This was the title of the conference hosted by the Lionello Bonfanti Pole between 6-8 March 2015, with the participation of about 100 people, members of Christian movements and communities from all around Europe. The common denominator for everyone was: the dedication to bring forth economic experiences and forms oriented at the common good instead of increasing profits, renewed by the charismas embodied by each movement and community.
From Schönstatt to the Focolare Movement, from the Nomadelfia Community to YMCA, from the Comunity of Pope John XXIII to Vineyard... they are all very aware that in order to renew the current economy and avoid "grievous effects" take hide in the lives of people and the environment, it is necessary to transform Christian values
into economic action and structures, without compromise.
One of the participants emphasised in their conclusion: 'I can help a poor person by giving them alms, or by offering them a bed in my house. This second possibility changes the life story of that poor person, it changes my story, too, but more generally, it changes the history of the world because it modifies the traditional way poverty is treated, it does not consider it a normal and acceptable thing to see in our streets.'
source: pololionellobonfanti.it