We should not descend to compromise when the poor's skin is at stake. We should not help them with money wrought out of their weakness.
by Luigino Bruni
published in Città Nuova n.21 on 10/11/2014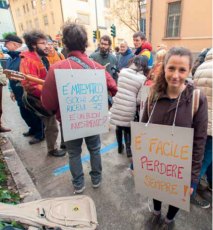 I was in London, pursuing economic studies when in the morning of 8th May 1998 Chiara Lubich reached me on my house phone. Even if I had been member of her movement since the age of 15 – this is the great adventure of my life – I had never spoken to her personally. I can still remember how moved and surprised I was, but above all I remember her words: 'Would you like to help me to attain scientific dignity to the Economy of Communion?' The she added that on her return from Brazil, seven years after the launch of the EoC she understood that unless there developed an economic thought to accompany the entrepreneurs, the EoC would never really take off. I said yes, I left London for Rome and started working with her and many other fellows – and it all contributed to giving a bit of that scientific dignity to the life we all wanted to live then and now. I understood that life has priority, but thoughts and theory are also life and when they are not there, practice becomes poor and short lived.
Throughout the ten years of working together Chiara often repeated, 'Study, write, have meetings. That's all right. But don't forget, I created the EoC for the poor'. For the poor, not so much nor primarily to make more ethical companies or new economic theories.
This mandate of Chiara's grew up with and in me over the years. It matured, has been enriched and it was given expression in many ways. It never died away, rather, it has become brighter and brighter. Those words have been fruitful and generative. And I / we have revealed many things, all of them beautiful, all of them painful (pain has a light).
I have understood that there are many types of poverty and not all are inhumane. There is no doubt that of the 'favelas' that Chiara saw from the plane as it was landing in Sao Paulo; it was there yesterday, and it is there today, too – and we must not rest until it disappears tomorrow. This is the poverty-misery of the social suburbs of the earth. Combating these forms of poverty is still a major priority of the EoC: it is also for this that in May we (from all around the world) will go to Africa, notwithstanding Ebola, to say no to a 'culture of immunity' that assists passively to the death of millions of people every year and to the wars in the world, but isolates entire African countries because maybe a dozen Westerners were infected (today people are starving to death in Sierra Leone because they are isolated from everyone).
Next to the poverty of the favelas of the earth there are also old and new types of poverty and especially old and new groups of the poor that the EoC looks at differently: it looks at them in order to love them and be loved by them, in reciprocity. Many of these "other" forms of poverty are in constant growth around us today. Work, especially that of young people, is a great poverty of our time that cannot and should not let us be at peace. Depression that is becoming the new plague of the 21st century. Gamble.
The discovery of the seriousness and urgency of gamble has been gradually growing in me. I have always suffered when I walked into a bar, bought a newspaper or when I stopped at a motorway and saw the impressive choice of slot machines and scratch cards. In recent years I have seen more and more of them inside bars and ugly and black gaming-rooms that have been invading our cities. I found slot machines in all the bars of my small hometown (Roccafluvione) and I saw the birth of a gaming-room and a betting parlour last year.
The turning point arrived the day when, two years ago, I refused to do a conference at a social club of a parish because there were slot machines at the back, shiny and hungry like idols. I felt that it was time to act. I remembered the words of Chiara. I decided to start the "coffee strike" (not to consume anything in the slot machine bars, and say it to the bartender). Then I shared this idea first with a dear Sardinian friend (Vittorio), a companion of mine in ideals and profession, and then I talked with other fellow economists (Alessandra, Leonardo) and with a group of young Romans who are keen on critical consumption and ethical mobs (Gabriel and Francis) - and the slotmob campaign was born: we decided to say no to gambling by saying yes to those bars that by an ethical choice removed the slot machines through a group breakfast and a football tournament and games of gratuitousness.
'I created the EoC for the poor.' That is, also for the poor who are victims of gamble, who today are devoured by a gamble empire, a veritable structure of sin, grown virally due to intentional and explicit political choices. Twenty years ago the slots were only in casinos, not in bars. Scratch cards did not exist. Someone in the government decided to start making cash by allying with gamble companies, increasing concessions and inventing increasingly sophisticated systems designed to trap the most fragile.
Those who enter a black room (I do not want to soil the beautiful word "games" by placing it next to gamble), or those women, many of whom are elderly, waiting for the opening of the bar to play, under the stairs, on their favourite machine – they are people in need of help. Behind the clinking of money and the play of colours there hides a harrowing cry for help, if you have the ears to hear it. They all suffer, many of them are fragile, extremely fragile people. Many of them are depressed, many have problems with alcohol and drugs. They should not be left in the hands of for-profit companies designed to make profits out of their despair. In past centuries the pawn shops had been invented and then run by religious orders: whoever pledges their wedding ring or wedding dress should not find themselves facing someone who wants to derive profit from their despair, but a friendly look, full of pietas. Not someone that earns more if they ruin you more. The more lost you get the more their earnings accumulate, as it happens almost always in the world of the "I-buy-gold", and as it always happens with gamble. Wise civilizations know this very much, our Italian civilisation has forgotten and denied it.
A government, a parliament and institutions that do nothing, or terribly little to put an end to this scandal is a government that is not taking the side of the poor. Just as those non-profit organizations are not taking the side of the poor (the day that I got to know how many they are I could not sleep) that accept money from our fragile people to treat other fragilities. Is this not mad?! And all those who sign agreements with "industrial associations for gamble" to support legal gambling and combat illegal gambling, accepting and signing the idea that legal gambling is good. I hope it's just naiveté.
There is so much pain in the world, we know it well. Part of this pain can be eliminated or at least reduced. But more is needed in terms of action and in thought. Gamble is a metastasis of a profound illness of our capitalism, particularly of Italian capitalism (Italy is the first European nation to be pro-gamble while there are no slot machines in the bars in Germany and France). Behind the big Italian gamble enterprises (Lottomatica, Sisal, SNAI ...) there are companies that were once producers of geographic atlases and books for our children (and unfortunately they still are), who, after having lost their original mission thought of jumping into a safe market where profits are not lacking – institutions are seriously complicit. In Italy there is not only the beautiful capitalism of small and medium enterprises and family businesses (also larger ones) that is looking to the long run, loving the people and the territories. There is also the "Lottomatica model" based capitalism that has the sole purpose of maximizing profits and returns and is planning go to schools to educate our children about "responsible gambling", and maybe it will succeed, too, given the precedents. This capitalism is not the economy that Chiara dreamed of, it is not civil but uncivil economy, one that grows and prospers by consuming the poor.
The EoC will only continue its course towards a more fraternal world if it continues to hear the "cry of the poor", the poor of the favelas and the poor devoured by that utterly wrong part of capitalism in our country. It was listening to the cry of the poor that moved Chiara and made her invent the EoC. It is hearing other cries of other poor people (the cries of the poor are perhaps the same everywhere) that now moves our actions against gambling, and has to induce other similar actions, because we cannot sleep peacefully while structures of sin devour our brothers and sisters. 'Don't forget, the EoC was born for the poor.' Let's keep that in mind, together.