Today is the 23rd anniversary of the Economy of Communion, launched on 29th May 1991 by Chiara Lubich in Brazil
by Luigino Bruni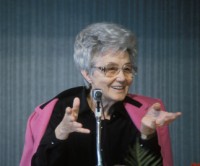 Our "birthday" has come this year, too, and it found us alive. Though immersed like everyone else in the contradictions and crises of our time, but we at EoC are alive: we continue to live, to believe, to hope, to love. It is exactly in difficult times (and for many countries, and for millions of people, the crisis is far from being the past) that the presence of the EoC assumes a great and specific value because it is a response: it provides the answer partly to those who accuse ideal-driven economies of being mere utopia (the EoC is there, it is a place, so it is no u-topia, or non-place), and on also to the cynicism of those who no longer believe in anything but do everything to make those who still believe no longer believe.
Today, the first thought and the first thanks go to Chiara who left us this legacy, after she invented it out of her love for the poor, and cared for it and kept it up for many years. The EoC will live many more years if we do not stop to believe, to hope, to love, if we do not forget the purpose for which we were born, which is not to create more ethical companies but to come up with a world without poverty and, therefore, full of fraternity: ethical business is only the first step of a journey that will end only when "all shall be one", which means beyond the horizon of our times.
Today we are called to improve structures, to consolidate the Poles and the national associations, to strengthen the development projects and training schools (especially for the youth), but above all we are called, each and every one, to believe more (that the EoC is possible), to hope (that all are called to communion) and to love (everyone, especially the poor and the young). And to say thanks, to thank one another, to continue our journey at a good pace.
Happy birthday, EoC! Best wishes to all of you, our protagonist entrepreneurs, to all the other active members and to all our friends, who - thank God - are more and more.