Help us to realize what we have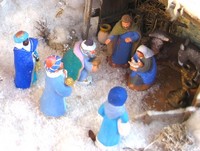 This letter was written by Julia as a school assignment. She'll turn eight years old in January. In reality, it is directed to Santa Claus, because the writing assignment specifically said, "write a letter to Santa Claus", knowing that using Santa Claus is less uncomfortable and more "politically correct" than Jesus. But asked about the true recipient of her letter, Julia answered: Baby Jesus... We publish the letter here because her disarming simplicity touched us very much.
Thank for giving me my life, for giving me a family that loves me, for having me live these seven years well, given me friendship and helping me to find many friends.
People have so many things, even if they are unsatisfied, and so people don't realize what they have. So please help us to realize what we have.
Kisses, Julia