In May 29, 1991, Chiara Lubich created the EoC in Sao Paulo, Brazil. Greetings for the occasion from Luigino Bruni.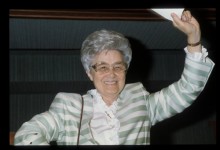 Today is EoC's 22nd anniversary. Year after year this date fills us with joy. We take the opportunity to thank the entrepreneurs, commissions, and EoC supporters and believers.
This year had plenty of both encouraging results and difficulties. Among the beautiful accomplishments I wish to highlight the Summer School for youth and the foundation of the Italian Association Aipec. We thank Pepe, the founder of the EoC company La Miniera, who past away not long ago. He celebrates together with Chiara and other friends in heaven. I feel they continue living next to us; our experience bridges heaven and earth.
From paradise we receive the power to promote communion on the Earth. Let us never cease to announce, promote and believe in the EoC. Happy anniversary EoC!
Luigino Bruni