Italian economist Stefano Zamagni's book published by Città Nuova (New City)
By Elena Cardinali
Published in Cittanuova.it April 12, 2013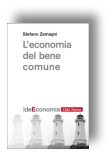 The book L'economia del bene comune (The Economy of the Common Good), written by Stefano Zamagni and published by Città Nuova (New City), is one of the winners of the first-ever "Centesimus Annus – Pro Pontefice" Foundation's "economy and society" book award. The foundation exists to promote the Social Doctrine of the Church.
The winners were presented last Thursday, April 11, in a press conference held in the Holy See Press Office.
The award was also granted ex aequo to Ciudadanía, migraciones y religion. Un diálogo ético desde la fe cristiana (Citizenships, Migrations, and Religion: An ethics dialogue of the Christian Faith) by Professor Julio Luis Martínez Martínez. In a press conference Cardinal Domenico Calcagno, president of the Administration of the Patrimony of the Apostolic See (APSA), stated that Stafano Zamagni, the author of L'economia del bene comune published by Città Nuova, «teaches Political Economy at the University of Bologna and the Bologna campus of the American institute, Johns Hopkins University. He is internationally well-known and the author of many books and manuals on economics and the history of economics. He has spoken frequently on the cultural debate over issues such as the family, multiculturalism, and the laity, and received numerous awards from around the world.
The awarded book written by Prof. Zamagni, L'economia del bene comune, suggests we need to widen the range of fundamental categories that allow us to understand economic activity. Against a dominant model which considers market and State the only major economic players, Zamagni presents a third sphere of values (solidarity, entrepreneurship, sympathy) which neither efficiency nor a search for justice can fulfill.
He is convinced that without these values of fraternity and reciprocity market and State cannot function. He believes in the need to make room for an economic space within the market (not outside or against it) where players are inspired by the principle of solidarity."
The winners of the first-ever edition of the Centesimus Annus – Pro Pontefice Foundation's "economy and society" award define the guidelines for future selections. Centesimus Annus - Pro Pontifice Foundation considers Martínez's and Zamagni's books novelties in the global cultural debate. Selecting them the foundation indicates the prize's wide topic coverage, which include both prophecy vision and present issues. Both books are innovative and stimulating».
The award ceremony will be held during the opening of the Centesimus Annus Foundation's 20th anniversary convention in Rome (Palazzo della Cancelleria) on May 24th.
Stefano Zamagni, L'economia del bene comune (Città Nuova, pp. 250, € 16.00)