Last December 30th, Pino Quartana, one of the first protagonists of the EoC, left us for Heaven.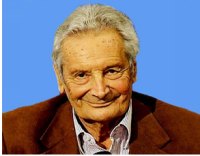 He left us on the dawn of the Feast of the Holy Family, with Mariele his wife, and son Luca beside him; he would have reached 84 years of age in February. With a degree in Philosophy, he had taught High School for many years. We wish to remember him today for the very important role he lived in the first years of the EoC's development: when in May of 1991 Chiara Lubich launched worldwide, the 'Eoc bomb', Pino Quartana was responsible along with his wife Mariele and with Tommaso Sorgi, for the New Humanity Movement of the Focolare, the first area in which the EoC naturally moved its first steps. Pino Quartana accompanied the project from up close, encouraging it and supporting the first moments of its explosion in the whole world.
To keep his memory alive and with it, the spiritual and charismatic roots of the Economy of Communion, with gratitude to Pino we publish an important text contained in the special number which New Humanity dedicated to the Economy of Communion in the spring of 1992, a year from its birth.
It is striking, towards the end of this text, what Pino prophetically affirmed concerning the EoC: "But this project, born – as has been said - first of all to resolve a social problem within the Movement, where – as in the first community in Trent during the war «there should and cannot be anyone in poverty», we think should also be happening on the outside. The idea has the possibility of being welcomed by many hearts. An ideology fell which founded it economic structure on a collectivism imposed on man reduced to producing, to the economic dimension only; but no less critical is the structure set on hard corporate individualism and on man reduced to consumer. In fact, there is expectancy for something which can resolve the social and economic problems making leverage on what is most true and authentic in mankind."
In the name of the poor and all the people involved in the EoC: Thank you Pino!
The Economy of Communion in the thought of Chiara Lubich, by Pino Quartana, from New Humanity n.80-81, vol XVI, 1992/04-05