Information on profit destination, on businesses, and on projects: The life of an EoC year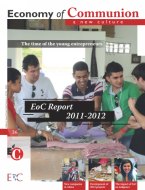 This year, the EoC Report for 2011/2012 will have a more synthetic form, adapting itself to the now usual layout of the Economy of Communion news, a new culture, (Notiziario Economia di Comunione, una cultura nuova) which reaches n. 36, with this publication. The choice is dictated by the opportunity to extensively widen the reach for data on the Economy of Communion this year. Published with the single number for December 2012 of Citta` Nuova, n.23/2012, the EoC Report reached 48.000 printed copies which will arrive to all subscribers of Citta` Nuova, plus those who requested it during this time.
A whole year of Economy of Communion: the data and news reported on the EoC Report go from September 2011 to September 2012. It not only gives all the destinations of this year's profits in a synthetic table, but also mentiones EoC businesses from a 'historical' perspective referring to new ones, to development of projects, to EoC schools which characterize the Young People Project, to the EoC for the year, to Industrial Parks and EoC Associations, and to the research being done on the impact of the Economy of Communion on poverty.
Characterizing this Report is the introduction by Alberto Ferrucci on the life of the EoC of this year and the conclusions by Luigino Bruni on future prospects. We could not do without our formidable Formy, with her own ribbon ad hoc.
The report is available online: we invite you to download it and read it. Great reading!
The Report is available for download here