The first American to receive the Nobel Prize in Economics in 1970
Paul Samuelson, one of the greatest economists of the 20th century, has died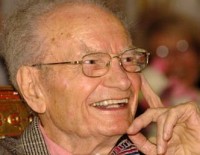 Paul Samuelson died at 94. He was an economist who contributed much to the writing of contemporary economy, without ever losing touch with reality and with real people. In his memory, we report the conclusion of a 2004 interview he gave with Piergiorgio Odifreddi:
What are the political and ethical responsibilities of an economist?

Personally, they including being against unequality and in favor of governmental action that minimizes the number of people dependant on the mechanisms of the market. Not cradling Napoleonic dreams, not pretending that everyone agrees with me, but I have to say that the economists of the latest generation are becoming much less altruistic, the farther away we get from the Great Depression, which taught us dependance and mutual help.
To finish, what conclusions do you make of your life of economic study and research?


I enormously enjoyed being an economist of my time and of my place. I am worthy of some of my success, but for the most part no. I enjoyed popularity as a journalist and author of texts, of high and low levels. The many honors that turned up were satistifying, and some even made me wealthier. But more than anything, it was a pleasure to explore new and, I hope, realistic  brain-teasing economics. For me, the fame and forture have always been secondary compared to the fun.

(translated from an Italian text)