2010 Desktop Calendar
On Earth, Everything is in a Relationship of Love with Everything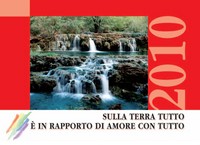 Once again, Rosa Di Mauro has created a desktop calendar in collaboration with Cittá Nuova Publishers and Elisabeth Schabler. The theme of he 2010 Calender is Ecology.
The texts are from Chiara Lubich, Maria Chiara Benassi, Luigino Bruni, Antonio Camilli, Luigi Castiglioni, Pasquale Ionata, Pietro Isolan, Gianfranco Ravasi, Sergio Rondinara and Nicasio Scuderi. You may buy the calendar through Cittá Nuova Publishers. A great gift idea, for home or business, that brings with it a message to last throughout the year.
How to order the 2010 EOC Desktop Calendar (in Italian only):
You may buy the 2010 EOC Desktop Calendar Calendar, "On Earth Everything is in a Relationship of Love with Everything", with receipt, by contacting Cittá Nuova Publishers at: This email address is being protected from spambots. You need JavaScript enabled to view it. or at tel. 06 6530467
Please provide the following information:
-   Number of copies requested (minimum 25)
-   Fiscale code for individuals or VAT number for associations
-   Complete address of recipient, for shipment
-   For businesses, the eventual days when the business will be closed and will not receive mail
-   Telephone number of who is ordering (essential for sending the order)
The cost of a single Calendar is €2 including tax. Shipment cost is additional. Copies requested and billed will be sent directly to the recipient.