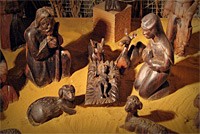 All Christmases in our lives are very special.
And on that day it is not rare that in the hearts of men
a flame is lit...
Yes, because Christmas is the strong and evident testimony of the One who loves us,
Because it cannot be but love
that is up there, from heaven,
who came to live among us.
Chiara Lubich
With Chiara Lubich's words we send you our best wishes and thank God together for the return of Baby Jesus in our midst in this difficult year but for us also full of graces, providence, fruits and life.
A God who is born poor among the poor must remind us the center and the goal of the Chiara's EoC: no indigent, a rich program and for this many hearts are moved. I want to think and hope that Chiara in Heaven is happy of this 2011.
We have to look ahead for a fruitful 2012. Best wishes and thank you to each and everyone.
Luigino Bruni