Inserted in the Città Nuova n.23/2011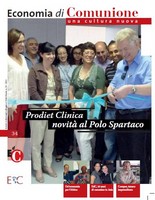 The new n.34 EoC Newsletter is arriving to all Città Nuova subscibers, insert n.23/2011 of December 10. Our newsletter is distributed in over 50,000 copies! The readers of Città Nuova showed us their appreciation by giving us an ample amount of feedback on the first issue of our newsletter, inserted in the magazine that came out in July.
In this issue you will find a large amount of news briefs from around the world: from Asia, to Africa, to Brazil and to Italy. There are reflections on the current status of the project and on which direction to take after the first 20 years, also in the light of a recent survey on the EoC's identity and future. As always, there are the new theses discussed. Enjoy reading!
In questo numero trovate un'ampia carellata su Edc da tutto il mondo: dall'Asia, all'Africa, al Brasile fino all'Italia. Non mancano le riflessioni sullo stato del progetto e sulla direzione da intraprendere oggi, dopo i primi 20 anni, anche alla luce di un recente sondaggio sull'Identità ed il futuro dell'Edc. Come sempre presenti le nuove tesi di laurea discusse. Buona lettura!
EoC n.34: download the newsletter in print format