The new survey has been uploaded!
The third part on our challenges as EoC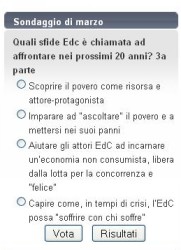 In sight of the big event in Brazil, for the 20th of the EoC, we have one more survey on "Which challenges is the EoC called to face in the next 20 years?
After having asked opinions, in the last two surveys, on the spreading of the project and on the EoC businesses, today we put you before a series of challenges that regard one of the Economy of Communion's central aspects, around which the whole project revolves: the poor. We're very interested in what you think, so we hope that many of you will vote on this most important challenge!