The situation is still serious after the floods of recent days at the Argentinean EoC's business park Polo Solidaridad, located in the vicinity of Mariapolis Lia at O'Higgins
by Antonella Ferrucci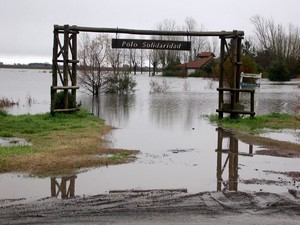 There was an email circulating among the members of the Polo Solidaridad and a few hours after a post appeared on facebook: "Solidarity with Polo Solidaridad". This is how we learned about the serious flood that hit Polo Solidaridad and Mariapolis Lia O'Higgins (Argentina) in the last few days.
We asked Carolina Carbonell how the situation is currently: "The Mariapoli and the business park are currently isolated because the water has risen up to 80 cm on some points of the road taking there. Until last Saturday it was accessible with some difficulty, but not anymore."
The situation is critical in both the business park and the Mariapolis: "The entire Polo is stopped. The water entered into three houses of the Mariapolis. The channel is in good condition but cannot receive more water because it is full. We can only wait for the rain to end and the water to begin to drain."
We asked Carolina about the situation of the entrepreneurs of the business park: "Pepe Marín
seems to be the one who suffered most damages: he is the entrepreneur of the agricultural company called Primicias, which has probably lost their entire production." Carolina spoke with Pepe, he was calm but - it has to be admitted - "a bit lost". "The economic losses are likely to be enormous, and we must stay close to him both in terms of moral and material support. We should make this communion be felt more than ever," Carolina concludes.
Meanwhile the news began to spread among Spanish entrepreneurs, some of whom got to know Pepè Marin in Nairobi, and a spontaneous desire to help Pepè concretely arose immediately: "We are with him - Isaias Hernando of the Spanish EdeC Association promptly confides - and sent word that he can count on us: that he should let us know what the most effective way to help him concretely is." To live communion, and "love the company of others as our own" means to act like you do in a family, even in concrete terms. Carolina from Argentina promises to keep us updated: we will do our best to let you have the news.