To accompany n.13-14/2015 of Città Nuova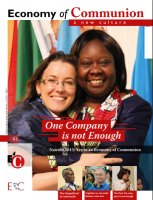 The EoC Newsletter no. 41  is now available online, subscribers to Città Nuova are receiving it in their homes these days. The same editorial insert n.13-14/2015, for 10-25 July is available on the EoC site, too, where the html version of the Newsletter can be downloaded as a printable file.
As the editorial by Alberto Ferrucci points out, this issue is entirely devoted to the EoC events of Nairobi this past May - as attested by those who were there - has had the dimension and effect of a new "EoC bomb". "One company is not enough"; this is the title of the issue: a motto born spontaneously in those days explained by Ornella Seca explains in her article.
 Alberto Sturla, says he took part in the EoC Congress "like someone who is simply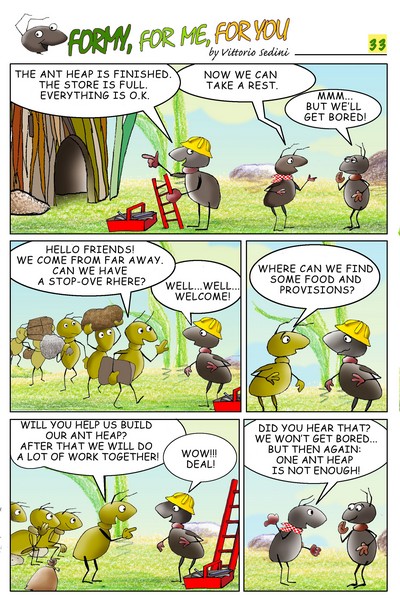 curious," and he describes the things  - some of them really surprising - that he witnessed in those days in Nairobi. "Being Creative For the Other" says the title of his contribution. The excerpt presenting the most relevant points of the message of Maria Voce to the participants of the Congress is also an important read.
The speakers of the plenary sessions tried to squeeze the gist of their presentations in a single page, in an attempt to convey the important thoughts emerged in Nairobi to everyone. So here is the synthesis of Geneviève A. M. Sanze's presentation on "Ubuntu Means Sharing", "Let's learn to see the tree growing" by Luigino Bruni, "The Style of an EoC Company" by Giuseppe Argiolas, "Real Wealth and Poverty" by Luca Crivelli any "The Richness of Communion" by Lorna Gold.
Many EoC life experiences were shared in Nairobi: from among all of them we chose a special one shared by Uncle Gilbert Gba: "Life in the Community of Glolè"".
Finally, a nice overview of the EoC School in Nairobi with more than 170 young people and the launch of two new business incubators as reported by Anouk Grevin in her "Together We Can Make Dreams Come True". The issue's close is provided by our favourite mascot Formy, who is hereby making his fifth appearance on the pages of Città Nuova. Have a good read!