The new Newsletter N.32 is available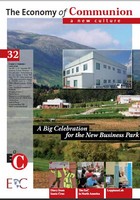 Issue N.32 of the EoC Newsletter includes the announcement of the new EoC Business Park in Portugal and much of the EoC life from around the world, including Russia, USA, Bolivia and Brazil, besides the main events of these last few months. We also present 13 new theses on the EoC, as well as more information on the youth internship program through the B2B website.
And don't miss the letters to the editor! Happy reading!