The Dawn of Midnight/18 - Humanity and the power of visible (and invisible) empires
by Luigino Bruni
published in Avvenire on 20/08/2017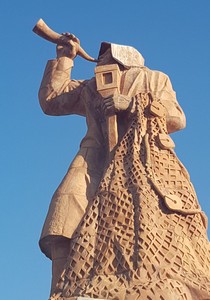 "...he is perfect to whom the entire world is as a foreign land. The tender soul has fixed his love on one spot in the world; the strong man has extended his love to all places; the perfect man has extinguished his."

Hugh of Saint-Victor Didascalicon (12th century; English translation by Jerome Taylor)
"(T)o pluck up and to break down, / to destroy and to overthrow": this is what Jeremiah heard on the day of his prophetic vocation. But together with these words he also heard two others that are different and complementary: "to build and to plant" (Jeremiah 1:10). It is not enough to announce scary scenarios of misfortune to be non-false prophets, because the earth is full of people who describe, sometimes even in good faith, a desperate present and future only to gather the consent of the many desperate people who feed on despair. Jeremiah does not deceive his fellow citizens by promising imaginary well-being and peace to them; but while prophesying this bitter and uncomfortable truth, he can say words of true and sublime hope.
Like that immense hope contained in the letter Jeremiah sent to the Jews deported to Babylon. It was addressed "to the surviving elders of the exiles, and to the priests, the prophets, and all the people, whom Nebuchadnezzar had taken into exile from Jerusalem to Babylon" (29:1). As we continue reading the text of the letter, we find ourselves in something unusual and amazing that surprises and moves us by its very humanity: "Thus says the Lord of hosts, the God of Israel, to all the exiles whom I have sent into exile from Jerusalem to Babylon: »Build houses and live in them; plant gardens and eat their produce. Take wives and have sons and daughters; take wives for your sons, and give your daughters in marriage, that they may bear sons and daughters; multiply there, and do not decrease«" (29:4-6). These are words that still leave us flabbergasted for their intense beauty. When in exile, there couldn't be truer and higher words of hope to be heard than those of Jeremiah. In any exile.
When life takes us away from home, and we emigrate through our own, free choice or are deported by some visible or invisible empire, we can experience exile as a curse or in the form of rage - or we can follow Jeremiah's advice. We can build houses and live in them, plant gardens and work, love, marry and then bring sons and daughters to the world, and see the sons and daughters of their sons and daughters. The immigrants who, even without knowing Jeremiah, lived their 'exile' like this, were saved, made a propitious time out of that difficult time, became a blessing for those who remained in their first homeland and the fellow citizens of their new homeland. They built a house, not a tent, because they wanted to inhabit that land and not just pass through it, rob it or make a short stay there.
The day you start building or buying a home in a foreign land, you become real citizens of that country, by virtue of the jus soli of the law of the earth and life. Because we build a house to talk of the future, to tell ourselves and others that we want to love and marry in that land, that we will conceive and grow up our sons and daughters in these rooms - and that one day they may even become disgusted and hateful, but we could only build a house and we did so.
While in exile, building a house has the same value as it had for Abraham to purchase land to bury Sarah on the land of the Hittites. Because building a house or a tomb makes the land of others mine, too, and it makes that land a deposit of heaven. Like Don Lorenzo Milani: the day after he arrived at Barbiana, he went to the local government and, aged 31, he bought a tomb for himself in the cemetery of his new parish, so as to say that the land of exile had already become the land of the only good and true life for him that day, and therefore that of his death the day after - which is always true, though not always good.
Build houses. Plant gardens. That is, work. When our grandparents arrived in America or Belgium, the fear of the future and the pain of the past began to vanish as soon as they began to work. By planting gardens, building houses (for others), that land also became theirs, the fruit of their co-creation. A wall or a mine gallery became part of the promised land thanks to the work of their hands, which made their life, language and food lighter. Hard but light. By working together, true fraternity-solidarity flourished among people speaking different languages, even though they talked to each other by their hands and through the tears of good and bad work. And even in the great exiles of wars and prisons, resurrection often begins when people can go back to work, or when they can take up some real work. And even today, friendship with the new exiles and immigrants can be born and reborn if and where we can work together. Brother Work.
Marry, bring sons and daughters to the world. Jeremiah was asked by YHWH not to marry and to have no sons or daughters (chapter 16), and so he did not know the joy of having a wife, sons and daughters during his prophetic exile. But, as it happens sometimes, those who know something but cannot avail of it for themselves end up acquiring a chastity that allows them to penetrate into its deepest nature. This is one of the true miracles of gratuitousness, which only the prophets really know and are able to explain to us: "For the children of the desolate one will be more / than the children of her who is married" (Isaiah 54:1). Multiply. In the land of exile, the same first words of Eden resound (Gen 1:28), Adam's first blessing takes on new life. Every time a child is born, the foreign land becomes a new Eden, Abraham can re-hear the promise of a new land and a great progeny, numerous like the stars of heaven. Isaac is saved from the ram again. The cave of Bethlehem becomes the empty tomb of Jerusalem.
This first letter to the deported ones reaches its prophetic culmination in the conclusion, which, therefore, is its splendid paradox: "But seek the welfare [shalom] of the city where I have sent you into exile, and pray to the Lord on its behalf, for in its welfare you will find your welfare" (29:7). What more can you ask from a prophet? What's 'beyond' a high prayer to God asking for the shalom of those who have occupied, deported and torn you away from your home? "Love your enemies, bless those who curse you," we will read seven centuries later in the gospels. And maybe we would not have read it, or would have read it differently, had there not been Jeremiah, had there not been the prophets: "Who do people say that the Son of Man is?" And they said, "Some say John the Baptist, others say Elijah, and others Jeremiah or one of the prophets" (Mt 16:13-14).
The faith of Israel, the Covenant and the Law can also be lived in exile: there is no need to wait for the return home, because everything is there to live in full in Babylon, too. And this is what Jeremiah writes, and this is what the true prophets know and must say. They remind us that the only promised land is where we are living today; that even the desert may be the promised land if we make it flourish by building, working, loving and generating sons and daughters on it. No present time has to be killed in the expectation of a future time.
The chapter ends with a new clash between Jeremiah and the false prophets, but this time they are among the exiles in Babylon. We find - not surprisingly - that among the deported prophets there are also some promoters of nationalist ideology, from the same school as Hananiah (chapter 28). Jeremiah's words are far from being tender when he refers to them in his letter: "Do not let your prophets and your diviners who are among you deceive you ... for it is a lie that they are prophesying to you in my name; I did not send them" (29:8-9). Jeremiah calls them by name, maybe he knew them well: Ahab, Zedekiah and Shemaiah (29:21, 24). Even the exiles have their false prophets, who proliferate even more than at home, because their sale of illusions and false consolations finds more 'customers' in the time of suffering and anguish.
And this time, too, the prophets accused and de-legitimized by Jeremiah act. Shemaiah "sent letters (...) to all the people who are in Jerusalem, and to Zephaniah the son of Maaseiah the priest, and to all the priests" (29:25). Shemaiah's request to Zephaniah, the supervisor of the temple was very clear and direct: "why have you not rebuked Jeremiah of Anathoth who is prophesying to you?" (29:27), equating him thus to "every madman who prophesies" (29:26). Zephaniah, who is obviously a righteous man, did not listen to Shemaiah - even in vastly spread corruption and in 'structures of sin' one can meet a righteous person. He informed Jeremiah about the letter, who answered with a new letter to the exiles: "Thus says the Lord (...) Shemaiah had prophesied to you when I did not send him, and has made you trust in a lie" (29:31).
The first enemies of true prophets are false prophets, those in bad faith, and those who in good faith, but devoured by ideology, see the true prophet as a serious threat to the people. Many of those marching against Jeremiah were genuinely convinced of fighting a foe of the homeland, a collaborator who wanted the ruin of Israel. This is the terrible power of ideology: persecuting and killing prophets and doing it in the name of goodness, truth, religion and God. Yesterday and today. The Bible does not tell us that history recognizes the true prophets and listens to them. Instead, it tells us the opposite, and shows them to us as defeated, after all. But the tenacious and hard struggle between Jeremiah and false prophecy, exactly because it is the story of a defeat, teaches us the grammar of the ideological kind of disease, which accompanies every religious and ideal driven experience (false prophecy is ideological, and the most powerful ideology is a form of false prophecy). Because ideological false prophecy flourishes on the same tree as true prophecy does. Unlike the weeds, it is not easy to recognize in the middle of the field, and so entire communities and peoples have nourished, and continue to feed on weed, believing to eat very good grain. And, almost always, the first weed eaters are the false prophets themselves, enchanted by their own spells.
download article in pdf