Cameroon: business incubation, training for the young, connections with universities and an EoC life that goes on.
By Steve Azeumo and Nji Mabih

Since the lunching of EoC IIN in Cameroon, as it had been planned before, we have launched the EoC association named "AECAC", Action for an Economy of Communion in Central Africa; with a permanent Secretariat in Yaoundé and access points in Buea and Douala.
We've also launched the CRE "Centre for Entrepreneurial Resources" in a co-working space shared by us and an EoC company. This actual and real EoC-IIN Hub is now gathering entrepreneurs' competences, creating a human resources network and establishing contact between young people with business ideas and experienced entrepreneurs.
In that line, we've had a meeting with M.Frederick Wambo, who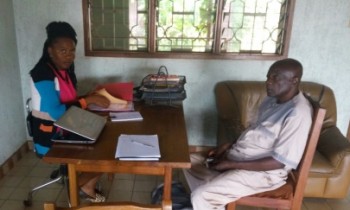 retired from the public sector and would like to start a company in real estate, and is willing to collaborate with others. We've also talked with Fabien Asong from Kumba, (South West Cameroon) whose (still young) business is producing soap with natural ingredients. In the next few months we will organize a training seminar with all the interested new entrepreneurs.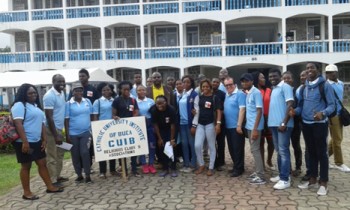 Another fruit of the EoC in Cameroon is the "EoC Club" born after the EoC School at the Catholic University Institute of Buea. The majority of its members are students in the last year of their university studies. On 16th November 2016 the EoC Club was revived and a program of activities was created together with the students, to be implemented in and outside of the school environment.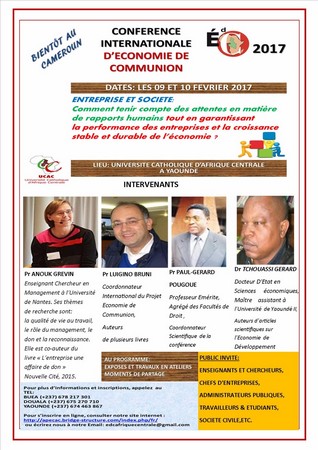 These activities and working sessions will enhance their training and also their entrepreneurial skills in the EoC spirit.
Our other activities in our CRE and EoC association include the preparations for the international conference to be held between 9th and 10th February 2017 at the Catholic University of Central Africa in Yaoundé. Various meetings have been taking place with the university authorities and some of the participants of the panels. Three local researchers are working with entrepreneurs to propose articles on the EoC in the entrepreneurial world, and also to provide their own analysis about the current economy from the EoC's perspective. Luigino Bruni and Anouk Grevin of the EoC's International Commission will participate.
Online registration is now possible at http://apecac.bridge-structure.com/index.php/fr/
Looking at the results of these first activities in Cameroon, we feel very hopeful and satisfied but are also aware that the intensive work needs to be continued.