Listening to Life/10 - God suffers with us and His word is the salt of the oblivious world
by Luigino Bruni
published in Avvenire on 28/08/2016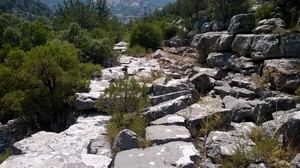 "While he (Job) was yet speaking, there came another and said, »Your sons and daughters were eating and drinking wine in their oldest brother's house, and behold, a great wind came across the wilderness and struck the four corners of the house, and it fell upon the young people, and they are dead...« Job then arose and tore his robe and shaved his head and fell on the ground and worshipped. And he said, »Naked I came from my mother's womb, and naked shall I return.«"
(Job 1, 18-21).
"Because Ar of Moab is laid waste in a night, / Moab is undone; / because Kir of Moab is laid waste in a night, / Moab is undone. He has gone up to the temple, and to Dibon, / to the high places to weep; / over Nebo and over Medeba / Moab wails. On every head is baldness; / every beard is shorn; in the streets they wear sackcloth; / on the housetops and in the squares / everyone wails and melts in tears... they raise a cry of destruction... For a cry has gone / around the land of Moab" (Isaiah 15:1-8)
We have reached the cycle of Isaiah's oracles and lamentations about the cities and the devastated nations of Babylon, Assyria, Moab, Damascus, Egypt, Ethiopia, and there is no other instance, no other kairos/time that could be more appropriate for our tragic times. These oracles and lamentations are greater than their times or their authors, and so they can donate great and extreme words to us even for crying about our Amatrice, Arquata, Accumuli, about our Syria, and the many cities and countries where the prophet's words still become flesh and blood, they get incarnate. Those streets and those squares destroyed and covered with rubble are now the best place to read the Bible and the prophets and meditate on them: only there can we understand them without getting upset or scandalized, and welcome them as a gift of real words when we don't have any left because they just want to be silent: "Their infants will be dashed in pieces before their eyes; their houses will be plundered...Hyenas will cry in its towers, and jackals in the pleasant palaces" (13:16-22). Those historical facts, the ravages Isaiah tells us about are now too distant, uncertain, rarefied, perhaps lost forever. But his song of lament and mourning can become, it does become, our song of mourning for our devastated cities and their inhabitants who have been lost. Because of a mysterious law of reciprocity, the words of the Bible make our words and our pain-love more human, they make them stay alive and bring fruits and they make them say ever new things. This law is true forever, but it remains dormant until an event makes it light up, almost always in the days of great pain. When we suddenly understand with the mind of our flesh that we need the Bible to be more human and that the Bible needs us to be able to stay alive. The evangelists have changed the world because they were able to give new words to the prophecy of the Immanuel, the Jordan, the Red Sea and the desert, making those ancient words say completely new things. If every generation of those who believe in that same biblical word does not find new and living words to repeat here and now to Moab, Damascus, to the deserts, the mountains Tabor and Moria, then the Bible will not transform our history and it will not save us. It will only become an ideology among many others, and serve to act as a tool to be used in the liturgy or for personal meditation - which is too little.
Great collective pain, when it does not make us worse, may become the midwives of new gospels. After this happens the world starts talking differently and biblical words speak more, too, they contain more verbs and adjectives. During these days more of the world, faith and God can be understood and in a different way. And we can also find out, for example, that there are millions of Jobs and Isaiahs in the world who continue to sing their songs, to write their books, shout out their words, and who have never read a single line of the Bible. And we can gasp in surprise upon this realisation. The Bible would be too little if it spoke only to those who read it and know it, if it loved only those who love it. If just one person passes through the ruins of our cities, he or she can collect the screams of mothers and fathers and see Job, Hagar or the Abandoned One again in them. That one person can give the biblical word the opportunity to continue to love and save us, to love and save even those who do not know and do not like that word. This is also a way for the good news to become universal, not a skimpy experience to be had in the small club of the elect. The word is the salt, the yeast of the earth, even if the earth does not know it. Without preaching, without talking about religion or God, but simply giving a different name to the signs it encounters, especially the silent pain of others. Something similar, though not the exact same thing happens with poetry and art: when they are honest they just 'give new names' to things to call the pain of the world something. The first, and perhaps only, gift/function of speech is to call things by a name, and by calling them something to rise them to life again.
If it weren't so, if the Bible had not taken upon itself the truest life of men and women (and on this earth nothing is more true than our pain, especially if moral or spiritual), one day no one could write or think that the word had become flesh, and that it had happened really, for eternity, for everyone. If we unhook the incarnation of the word by humanity which has suffered (is suffering now) and loved (is loving now) while waiting for words to call our own pain-love, we lose almost all of the historical and salvific meaning of biblical revelation.
The God of the Bible, therefore, suffers with us. He was there, in the rubble, digging with his bare hands, together with the firemen, next to the fathers and mothers, crying at funerals, asking 'why?' with and just like us - as he did on that day on the cross, and as he continues to do every day, forever. The questions that arise from our extreme pain 'force' God to live up to the highest of his creation, so high and noble that it amazes even its creator. The biblical God is surprised to see a father who does not die at the coffin of his child; he has to be surprised, because that moral force is of the same nature as the one that created the sea, the sun, the moon and the stars. And then he thanks us when we embrace, console ourselves, mix our tears with those of our wounded friends, he thanks us for all those embraces that he, in his omnipotence, cannot perform, if not through our body. And if he did not get shocked in assisting these acts of endless love-pain, then the God of the universe would not be the one the Bible speaks about, he would be less human than us. Instead, YHWH learns from history, he discovers that the most beautiful reading at funerals is that sacred page written by the parents' tears, and from those tears something that he did not know yet can be learned, something that he could not know until that mother has gone through it.
To believe in an omnipotent and most perfect God there was no need for revelation, a natural sense of religiousness or idolatry would have been enough. The Bible and then the incarnation have revealed to us another idea of ​​omnipotence and perfection, they have unveiled another God, who is surprised and moved upon seeing a son return home, who is indignant for our unexpected malice and is amazed at Abraham's extreme loyalty and Judah's extreme unfaithfulness.
Many problems of our theology - and our atheism - depend on having constructed an abstract idea of ​​God, too far from the Bible and from the wounds of history. The God we know in the Bible has always needed the free cooperation of men, trees (fig), animals (the donkey of Balaam), revealing to us a helplessness that needs the 'yes' of a young woman to let God become a child. The abstract almighty God of the philosophies, some theologies and some catechisms produces only a vain sense of omnipotence in his believers. It also produces the atheism of those who ask him to account for Jephthah's daughter, Ishmael, Dina, Esau, the Benjamites, two of Tamars, Uriah the Hittite, Abel and the crying Rachel who does not want to be consoled because her children are no more, for the mother of the Maccabees, from a crucified man who does not descend from the cross and dies really, therefore without the certainty that he would rise again - even if the various forms of agnosticism have always tried (and keep trying) to show us a Christ who just pretended his death, and therefore, his resurrection, too. That abstractly almighty God can only implode in front of the many Jairus' and widows of Naims who do not see their dead children rise again, in the face of Martha and Mary, who do not get their brother out of the grave, before the crucified ones who do not get to the 'first day after the Sabbath'. Christianity becomes full humanism, perhaps the greatest of all, as long as it knows how to remain standing (stabat) inside the holy Sabbath, without jumping too quickly from Golgotha ​​to the empty tomb. If we forget that after Friday there is Saturday (and not Sunday), we do not know how to call our sorrows, the pains of others by name, we build artificial Sundays and transform passion into a fiction that does not save anyone. Saturday is the day of human history: the time of the dead son, the time of the women who anoint the body of a crucified man, the time of embraces. It is only here that we can really meet the men and women of our time, anoint their and our wounds, cry with our friends of the journey and learn the brotherhood of Holy Saturday. And then, together, wait and hope for another day: "When the Lord has given you rest from your pain and turmoil and the hard service with which you were made to serve" (Isaiah 14:3).

download article in pdf