Listening to Life/5 - Called to care for the good seeds, never as masters
by Luigino Bruni
published in Avvenire by 24/07/2016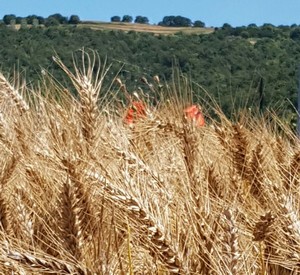 "Many times God denies you while giving you, and by denying you he gives you"

Ibn Atà, An Anthology of Arab-Persian Mystics

"In the year that King Uzziah died I saw the Lord sitting upon a throne, high and lifted up ... Above him stood the seraphim. (...) And I said: "Woe is me! For I am lost; for I am a man of unclean lips, and I dwell in the midst of a people of unclean lips; for my eyes have seen the King, the Lord of hosts!" (6,1-5).
In the year that King Uzziah died, I saw the Lord. Vocations happen in a certain place and day that remain forever written in the book of life, and in the heart of the prophet. "Here the Lord spoke to Francis", the guides tell us when we visit San Damiano in Assisi. Here, exactly thirty-one years ago, I met your mother for the first time. Here, on 27th August 1981, I heard the voice that asked me everything - I believed in that voice and I have given everything. Here, on that day. There is nothing more concrete than a vocation in the world. And it is there we often return when the voice no longer speaks, to call the space and time to testify that this meeting was not only an illusion. Hoping that the place which is still there can 'resurrect' the time that no longer exists. There are many pilgrimages of the spirit where we start to ask whether the place could talk again, giving us back live the time of the first meeting.
Vocations are never merely, or even primarily, a matter of psychology or of the soul. The earth, the sky, churches, factories, the office and the bush all speak to us. The soul's words are insufficient to describe what happened on that day. The man of ancient times had a richer language to describe life and therefore, to narrate about the spiritual realm. He knew that in the great days of life - that are very few apart from those of birth and death - a mysterious alliance between all of nature is realised. Everything speaks to us; everything is a polyphonic chorus of different voices of the same harmony. People of the Antiquity, and among them those of the Bible, still had other resources. In their universe there was not only nature that they felt much more alive than we are able to in our disenchanted world. Their land was inhabited by angels, seraphim, cherubim, and above all there was God, who was very real in people's lives. He did not live above the sun; he was not waiting for us up there after death. He was present and noticed among his people, his glory filled 'the whole earth' (6,3). Just because you could not see or touched it, God was very real and was not an idol.
The Bible has generated a humanism capable of authentic civil and moral miracles because it hated idols. Today we have not produced an atheistic culture, but we have regressed into a world full of idols in a much more banal way. It is necessary to have a sense of God in order to deny him, otherwise we are the non-believers of a god reduced to an idol. Idolatrous atheism is the great collective phenomenon of our time, as vast as mass idolatry is. The atheists of the biblical God were always very few, and today they have almost disappeared in our part of the world, because since they do not know God they cannot deny him, either.
Isaiah, too, leads us into the mystery of his vocation. As he is a great poet, he uses all the colours of his symbolic palette to tell us about his most important day. As in all biblical vocations the first emotion for him is not joy but fear. He is conscious of living a unique experience, of seeing things never seen or heard before (or since). He feels his inadequacy to stay inside that encounter, and he calls it 'impurities' through his own words. When we experience moments of light and joy they are always accompanied by the natural fear: if fear was the main character of our decisive meetings we would never form a family, neither would we enter in any convent nor give rise to any enterprise.
But here Isaiah is telling us about a specific thing: his vocation to become a prophet. The prophetic vocation has its typical marks. It is not the only vocation of a person, nor, does it - generally - last forever and neither is it always active. Isaiah, before receiving this specific task was already inside a story of faith. Probably he had already worked for years in the priestly environment of the temple in Jerusalem. He knew, lived and taught the faith of Israel. One day, however, in his life journey a new, unexpected and special event occurs: he receives a specific call: to become a prophet. Prophets are not born, you can only become one.
The prophet is a man or a woman who, in the normality of their life, sometimes (not always) is already righteous and good, receives a call to perform a task. They had n idea of it, it was not in their plans, because no prophetic vocation is in the plans of the person who receives it: if it were so the prophet would become the master of their own task, and their words would simply be the fruit of their own poor voice. The prophetic vocation does not coincide with the professional, artistic or family vocation, not even with religious vocation. Many prophets were already married, monks or nuns, when one day, on a precise and blessed day, they have a special encounter and become what they were not. And then, on another day, a blessed day, they complete their task and return home, like everyone else. Nobody is a prophet forever. The prophets know that their prophecy is a task to be performed, it is a gift that lives in them and that one day will leave them and they will have to learn again how to live and die like everyone else. Only the false prophets are there forever. The prophets get lost and betray their calling if they do not understand when it's time to 'go home', or if they understand it too late.
Receiving a prophetic vocation is therefore the biggest surprise that can happen to a living being under the sun. A vocation at work is there in many prophets who on the day of their call were not, like Isaiah, inside a temple, who have not 'seen' 'YHWH Sabaoth' seated on the throne, or the seraphim. But they, too, in a decisive encounter with a voice calling them in, have received an unexpected task, and have felt inadequate and unclean. If the prophets were only those who are able to call the voice calling them 'God', the earth would be an infinitely poorer and worse place, it would be sad and unliveable. There are many men and women who deceive and cheat themselves by following the wrong voice that they sometimes call God; but there are many others who save others and themselves by following true voices that they cannot recognize but can answer by saying, 'Here I am! Send me.' This was the response of Isaiah, too. Without this here I am no prophecy can begin. Every vocation is a covenant, a contract, a marriage. The assigned task is not all, the 'Here I am', the free response of the one called is also necessary. Many prophecies are not accomplished because the called ones cannot utter the 'Here I am' after the call. But humanity continues to live and hope because there are many who still know how to respond by saying 'Here am I', also sensing that the call is not for their own happiness.
Mysterious and unsettling is the content of the prophetic task of Isaiah, that, thanks to a 'special' reading of Matthew (13) and John (12), has influenced a certain school of Christian theology and even a certain type of anti-Semitism: "And I heard the voice of the Lord saying, (...) »Go, and say to this people: 'Keep on hearing, but do not understand; keep on seeing, but do not perceive.' Make the heart of this people dull, and their ears heavy, and blind their eyes; lest they see with their eyes, and hear with their ears, and understand with their hearts, and turn and be healed.« Then I said, »How long, O Lord?« (6,8-11) The honesty and truth of the Prophet are not in the content of the prophecy, but in the fidelity to the mandate received. It is rarely that the prophets like the announcement that they must make by vocation. It is not asked of them to love the words they utter. They are only faithful servants of words that are not theirs. But they can and should ask, "How long, O Lord?" (6,11). How long will the hardening of the heart, the pain of my people last? The vineyard is already devoured and trampled down (ch. 5), the hearts and ears are already hardened, the eyes are already blinded. In these cases that are very common, the prophet and his word do not convert the people (that is, its leaders), but only achieve the exasperation of the eyes, ears and hearts, and his own persecution. This is the destiny of the prophet, always, but especially in times of severe crisis. Once the vineyard has failed and got wild, the sun and the rain do nothing but make its bad fruit abundant. Perhaps Isaiah had guessed this, already on that first day. Or he understood it years later when he began writing the story of his vocation, as the first witness of the failure of his own mission. This is how the prophets die, this is how they fertilize the land of the children of all.
The chapter of Isaiah's vocation closes on a note of hope: "And though a tenth remain in it, / it will be burned again, / like a terebinth or an oak, / whose stump remains / when it is felled. / The holy seed is its stump." (6,13) Even a trunk of a fallen oak tree can develop a sucker again, if its first seed is still alive. The prophets, while they announce the fall of trees, are the guardians of the good seed.
The peoples and communities continue to harden their hearts, not understanding the prophets, crushing the poor. But the prophets continue their singing, and asking 'how long?'. Woe to them, woe to us, if they stopped singing.
Download article in pdf