The second day of the International Youth Forum on the Economy of Communion in the University of Sto. Tomas, Manila, Philippines. A memorandum of understanding between EoC and UST was signed.
by Jose Aranas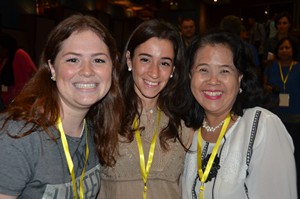 After a recap of the events of the previous day, Prof. Luca Crivelli, Ph.D. of the University of Applied Sciences and Arts of Southern Switzerland delivered a talk on EOC and other Forms of Social Businesses wherein he emphasized the ultimate goal of EoC is promoting communion within the economy.
UST Business students presented their social enterprises such as Fruitway which sources fruits and vegetables for retailing from poor farmers who are often taken advantage of by abusive and corrupt middle-men;
Lumiere which involved the Aeta community (an indigenous group) in Bataan, Northern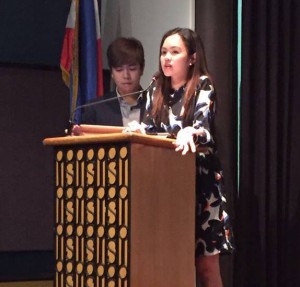 Philippines in the production of ornate bamboo lamps; and Spectrum which partnered with Cribs Foundation in helping minor female sexual abuse survivors.
Prof. Lorna Gold, Ph.D., Head of Policy and Advocacy Trocaire in Ireland talked about The Challenge of Ecology which pointed out world concerns on sustainable development in the face of climate change and the widening social inequality.
Afterwards, the forum participants were asked to discuss in groups a case study about helping a young businessman with inclinations towards EOC to decide which entrepreneurial option to take. The different groups then presented their output to the plenary in a very lively and inter-active way.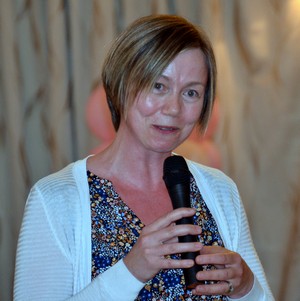 A diverse panel of young people also shared their thoughts and experiences on EoC. Maria Florencia Locascio from Argentina and Rafaella Tortelli from Brazil recounted their journeys of training and working with EOC. Both of them are now managing their own EOC businesses. Kiyoko, a Buddhist from Japan shared how she arrived at putting up her new business Prima Luce (First Light - signifying how the light of the Ideal first shone in the life of Chiara Lubich). Her business sells scarves made of Indian fabrics online engaging both Christians and Hindu in this business. Igino Tantoco from the Philippines shared insights on the culture of giving drawn from personal learnings from his childhood. He showed a video capturing a burger-giving spree he and a friend did recently.
There was the signing of the memorandum of understanding executed to strengthen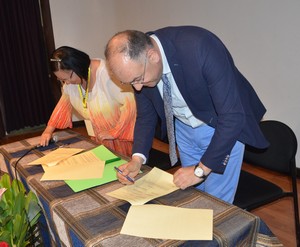 fraternity and solidarity between the Focolare - EoC and UST. The Dean of the College of Economics, Assistant Professor Mary Hildence M. Baluyot represented UST and Luigino Bruni for EoC, for the signing of the memorandum.
The day ended with the celebration of mass, with Fr. Carlo Marcelo, a renowned religious composer and artist in the Philippines, enjoining all to reflect on communion—even the economy of communion--as walking with God.
Late in the morning, there was a press conference of the EoC commission with different media groups. Some officials from the government's department of communications led by Undersecretary Jan Co Chua, were also present the whole morning.

See Photogallery