Intense activities take place midweek during International EoC Summer School "Towards a Bridging Economy".
From our corrispondent Isaias Hernando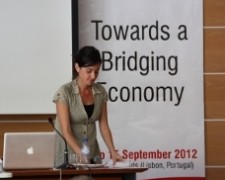 "The deep, attentive silence is impressive: not an easy thing with 70 young people in the classroom." Says Luigino Bruni, with a long experience as a university professor
As a matter of fact, the young participants at this Summer School can last over two hours without a sigh during high level academic sessions which require a certain concentration; then they go on after dinner to form work groups to deepen their knowledge on the topics covered, giving the best of themselves when presenting the work done. Those involved in research projects share their ideas with the others as well.
It is certainly no less hard building bridges in real economic life. It is a big challenge to make fraternity become an
economic category, since a good life and tragedy are often two faces of the same coin, as history and personal experience teaches us. Economy is a matter of human relationships and the market, according to Luigino Bruni's vision, has carried out a mediating function to avoid the threat of getting hurt in relationing with others. But if we wish the market to become a factor for inclusion of those on the outside, we must build bridges towards real communities.
In order to build these bridges we need organizers who use a different logic, one based on values and not profits. It is the wide world of social economy, whose panorama has been traced in an exceptional way by Americo Mendez, professor at the Catholic University of Porto. A world in which the EoC has a specific and original contribution, as Luca Crivelli from the Italian-Swiss University has shown.
What are the reasons by which a young person feels attracted by a project which seeks to build bridges and is not drawn above all by money? It is a question which deals with intrinsic motivations, one's own 'vocation', of not wanting to stifle the indignation felt inside when one hears the voice of the poor of every kind and every place.