With the touching handing out of certificates of participation, the EoC Summer School 2015 ended today
by Stefania Nardelli, Giulia Pongiglione and Dayana Piccoli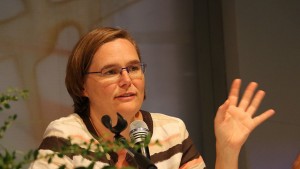 After five days of culture, communion and mutual understanding we have reached the end of our Summer School! At the close of our meeting, we turned to the subject of gift.
Anouk Grevin presented an empirical analysis carried out on companies suffering from problems of work malaise. The results of the analysis show that managers are often so focused on the administrative management that they devote no time to listening to the problems that emerge in the workplace, and they never reward and recognize the efforts of the team.
The questionnaires show that the moments of discussion and sharing that are necessary for the survival of the company are missing: in the working reality there is a component of "gift", gratuitousness, which cannot be required, but it is essential for the very life of the company because gift is the only way to start a relationship that encourages others to adopt behaviours of reciprocity in an unintentional and unnoticed way.
As a finishing note, today we shared the results of the afternoon workshops: they are real and actual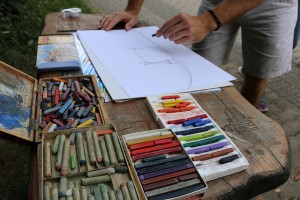 operational tools to give foundation to our creativity. In the workshop on social innovation we have developed projects regarding typical problems of our society. Using the Canvass model enriched with the values of the EoC, in the entrepreneurial workshops we have laid the foundations for business development projects, one of which will be realised in Portugal. In the workshop on art the goal was to express the value of beauty on the cultural and artistic level, promoted throughout the EoC from the very beginning. Finally, in the research workshop, representing different study profiles (economic, philosophical and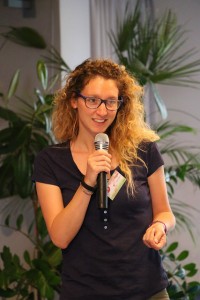 theological) each participant gave their own contribution to enrich three theses that will soon be presented at university.
The moment of thanks and presentation of certificates of participation was especially touching. Gratitude, appreciation and motivation were just some of the feelings we all had in common as we said goodbye. Participants expressed their desire to continue cooperating with the national EoC committees in their own daily life, joined also by those who are not directly involved in the economic or business world: it is good to find that everyone shared the feeling of having lived in a family built in just five days.
Now we all feel ambassadors of EoC and we are confident that by continuing to cultivate the relationships born during this week we can be a gift to others and we can build a better world with our hands, because we now have a first-hand experience that it is possible to create a better environment through relationships. The appointment for the 2016 Summer School will be in Amsterdam! Be there!