Changing the World, One Business at a Time
by Lorna Gold
published in charityandjustice.wordpress.com on 02/06/2015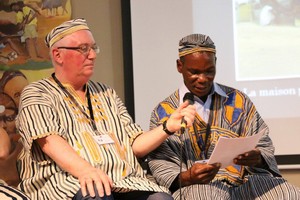 We are living in times not dissimilar to the Reganite and Thatcher years of the 1980s, when the market logic of economic growth was definitely in the ascendance. The resurgence of market dominance brings with it very serious, potentially destabilising down sides. Can markets, as currently structured, ever deliver solutions to the gross inequalities which are increasing exponentially? Can markets solve the global existential threat that is climate change? Can markets deliver on human rights in the fullest sense? As things stand, I have to say no. It just isn't possible. Businesses lack the foundation of a social contract, which only democracy can deliver. As the recent Trócaire report "Where aid meets trade" shows, there are serious issues of accountability at stake.
Yet last week I attended a global conference which made me realise how much more the business community has to offer – and the powerful role businesses can play if underpinned by a deep philosophy and vision. Back in the 1990s I wrote my PhD on a little known global project called an "Economy of Communion" (EOC). The idea behind it was simple: engage business leaders in a spirit of communion (taken to mean a deep, enduring commitment to sharing with those in need rather eucharist bread and wine) and it will have transformative effects. The businesses involved committed to sharing their profits in three parts – as a direct contribution to addressing inequality, but also as a sign of their commitment to a new kind of economy.
When I did my PhD on the EOC it was early days. The project had just been launched in Brazil by Chiara Lubich in 1991. It had experienced an initial burst of enthusiasm, but was beginning to struggle in its attempt to delineate the respective roles of the faith-based inspiration, business acumen, and the practicalities of operationalizing a form of truly global sharing before Web2.0 existed! Certainly there were many inspiring individuals involved, but the potential for widespread impact was less clear to me. In the first book I wrote on the subject in 2004, I didn't hold back my critique, pointing to many serious questions that needed to be answered if the project was to fly. In my second book in 2011, launched in UCD,  I was a bit more optimistic, but I still questioned the capacity of the EOC to transcend its Focolare roots.
Fast forward to 2015. I received an unexpected invitation to speak at a conference organised by the EOC and the Catholic University of East Africa in Nairobi. On an impulse, I accepted the invitation. It was the most unexpected, extraordinary experience. I found myself in a hall of 400 business people and young entrepreneurs who subscribe to the EOC philosophy. The people present represented many thousands more who were watching online or running the businesses. Most of them were Africans, many were from Burundi and Congo. One after the other they shared their stories of how they try to "live communion" in their businesses, in their local communities, and in global initiatives. They outlined projects of all sizes designed to bring the spirit of integrity and communion into the most diverse environments. They called on others to support them and they did not hold back. Their stories all demonstrated the same thing: business can play an extremely positive role today. It can be an agent of transformative change – a paradigm shift.
Having stepped back from the EOC for a number of years, and focused on political advocacy, I felt like I was witnessing the blossoming of the most extraordinary movement for good in the world. Here were business people from all over 40 countries coming together at their own expense to freely share their advice, their technologies, their ideas, and their capital with others who badly needed it – not for their own personal gain or out of paternalism, but in a genuine spirit of fraternity. The focus had shifted from singular, isolated EOC business people, who had a commitment to redistributing profits, to building a global network of communities who were connected in a common bond of building a more just, sustainable economy. Someone said it was about 'loving' the company of the other as your own, in a shared effort to support others in need and build a new economic culture. As one person put it "one company is not enough." And the social impact of the idea is already significant.
Whilst I was at the conference I had an intuition, which hopefully is a sign of things to come. We live today in an era defined by resource scarcity: there are not enough resources to go around. The resources we have are ununequally distributed. It's the basic conundrum at the centre of the climate change debate and post-2015. But what if those resources were shared – in a spirit of communion? What if "yours and mine become ours"? What if this can take place not only on the level of individuals or small communities – but also in businesses which define success in terms of communion? Business like this can become an invaluable instrument for good. Suddenly resources are multiplied, because the bonds of fraternity put in motion a tsunami of generosity which knows no bounds. Scarce resources paradoxically become abundant when they are shared in common. "Ubuntu" (the traditional African word for the feeling of community) is has far greater value than the claim to individual property.