The International EoC School Nairobi 2015 ended yesterday with dances, thanks, promises, sharing initiatives, responsibilities, dreams and plans.
by Lili Mugombozi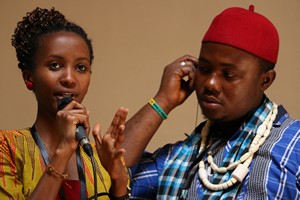 Certificates were handed over to the students by Professor Aloyse Ayako, Dean of the Faculty of Economics and Business at the Catholic University of Eastern Africa (CUEA), in a very warm and colourful atmosphere. "On behalf of CUEA, I would like to thank you for your efforts in recent days, for trying to enter into the dynamics of the EoC with your intelligence and your life. I also thank your teachers who have given you this opportunity".  Prof. Ayako, a former senior official at the Central Bank of Kenya, has trained many economists, managers and teachers of the country: "After getting to know the values of the EoC from closer, I can say that the EoC is the road to the world ahead of us."
CUEA took an active part in the construction of this school: in a partnership that dates back to the agreement signed in 2011 and which had as its fruit the creation of two courses of EoC that were taught at CUEA in July 2011 and 2012. Yesterday early in the morning, remembering that historical moment, Professor Ayako emphasized the desire and commitment of the University that this relationship should develop more and more.
It's impossible to express the depth and joy expressed spontaneously
by the more than 170 participants at the school who told how each has lived these days in just a few lines. There emerges a common factor in their impressions: despite coming from different races, cultures, religions, professions, and languages, they gathered here as brothers and sisters: "we are one family, we have experienced communion here, yet we were here to study economic categories, how come?" Listening to their impressions one has no doubt that the goals we had set to ourselves have been achieved: the method of reciprocity that was agreed on the first day has been applied.
  "We came in five from Burkina Faso, two of us are Muslims, while the other three friends are Christians. I must tell you the truth, coming here - after all that has happened - we were afraid, we were uncertain, we did not know how we would be received. Much to our surprise, we immediately felt at home, like members of a family. Incredible! Another question we had: 'how are we going to pray?', we did not know how to ask for at least a little room of this centre to be able to say our prayers. But when they showed us the place prepared for us,
there was another surprise: it was right next to the chapel of the Christians! It was a large room, too, a place worthy of a mosque." A young man from the Congo adds: "I am a Protestant, and I was very happy to be with my fellow Catholics, I felt myself in a family." Meanwhile, a Burundian youth confides: "I never had the opportunity to visit an EoC company, but I have imagined it in these days, and I think it should be like this school. A place where there is peace, simplicity and harmony".
Young people were asked by their teachers to dream, to aim high, but so many have done even more: "Through this school my dreams for my Africa,
for my Congo and the entire world have been redefined. I want to live to see this prophecy fulfilled: a new world". Still others find that dreaming does not mean delegating their own responsibilities to others: "Once they said that we were the future, now it becomes increasingly clear that we are the present. If we do not start now, how could we do so tomorrow? We cannot back out from the opportunity given to us today," says Abram from Mexico. Thanking the teachers, Edit from Congo says: "During these days you have given us the key. You have shown us how creative we young people are: we should not expect anything from anyone, even less from our governments. We have to be the ones to create a better society for others."
A part of the morning was dedicated to the presentation of the work done about the various topics in the afternoon workshops. With a truly unique creativity, students have imagined and realized their projects that - as one of the professors said - went "beyond our expectations". Drawing
from the experiences of each of its members, every group "created a business" to provide for the needs of their own societies.
We can definitely say that young people have shown themselves well capable of overcoming the challenges they encounter every day: poverty, conflicts, injustice and discrimination. The group that focused on research has decided to continue its work by producing research that highlights some of the values ​​of African cultures in consonance with the EoC: their mentor will be Benedetto Gui. While young people were closing the doors of their school, the first group of the 300 entrepreneurs to pursue their conference from this afternoon were already arriving to take the hall. What better way could there have been to welcoming them, than a bit of music - a song written for the occasion: "The Economy of Communion to humanize the market, to humanize society": is it a dream or a reality?"