Stefano Zamagni e Maria Voce gli ospiti speciali dell'evento centrale di LoppianoLab, sabato 22 settembre dalle 15.30 presso l'Auditorium di Loppiano: prevista la diretta streaming
By Press office LoppianoLab 2012, 18/09/2012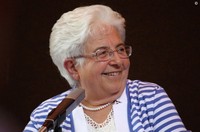 A workshop to build an Italy with the contribution of all, experts and citizens: this is the scene at Loppianolab. Point of encounter and synthesis of the 'four day' appointment will be a meeting held on Saturday September 22 entitled 'Italy Europe. A single workshop for young people, work and innovation'. Results, proposals and paths will enrich that cultural, political, civil, economic, and educative universe which can contribute in regenerating the social fabric of our country. Participating in this encounter will be Tiziana Ferraio, TG1 journalist, Paolo Ponzano, special Councillor for the European Commission, and Stefano Zamagni, economist. Riccardo Barlaam, journalist for 'The sun 24 hours' will lead the in-depth meeting.
At 6:00 pm, Maria Voce, President of the Focolare Movement, will be interviewed by Lucetta Scaraffia, historian and editor of the newspaper 'Osservatore Romano'(Roman Observer) and Marco Politi, writer and editor for 'Il Fatto Quotidiano' (The daily news) on the occasion of the presentation of the interview-book with Maria Voce (dialogue with Paolo Loriga and Michele Zanzucchi), The wager of Emmaus. What the focolarini do and think after Chiara Lubich's departure. (Citta`Nuova Publication).
A few days from the inauguration of the third event of LoppianoLab, a crowd of people is expected to arrive from all over Italy which will be participating in 15 theme workshops
on unemployment and work, educational emergency and legality, Europe and inter-culture, environment and health; as well, in an expo of 50 businesses, a national Convention which will re-launch the challenge of the Economy of Communion and provide numerous cultural events.
"LoppianoLab 2012 is a place where one can meet, project, and innovate, explains Danilo Virdis (general director of Città Nuova Publication, one of the four promoters of the event), we are convinced that only one civil and cultural workplace can regenerate Italy and Europe, can contribute to winning the gamble for the future with the young people, because it focuses on competence, work and innovation. The protagonists will be them: young people who want to participate and citizens, entrepreneurs and workers, intellectuals and artists, politicians and journalists. In a dialogue full of participation they will look at Italy and Europe to catch potentials and expectations, gathering challenges and signals born of this crisis".
The program for Saturday September 22, from 15.30 To 19.00, will be transmitted entirely on live stream on:
www.cittanuova.it
www.loppiano.it
www.pololionellobonfanti.it
Active SOCIAL NETWORKS of LoppianoLab 2012:
See the program of the event
Go to Press Area