Economist Sr. Alessandra Smerilli, thanks to the life experience shared, highlighted their specific contribution to the development of business.
Youth and women, potential that ought to be recognized
By Chiara Andreola
Published on cittanuova.it on 20/09/2010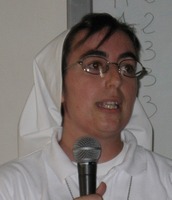 "They've asked me to explain why youth and women are an economic resource. But after the experiences that we've heard, I think that this (my talk) is useless." Sr. Alessandra Smerilli's opening did not surprise the public present on the last morning of Loppiano Lab, because those who had spoken before her had already answered this question with their lives. Smerilli recalled a few facts: in this country, these two categories of people represent 60 percent of the population. However, Parliament is composed 18 percent by women, and the average age there is above 50. And at the same time, 88 percent of youth have unstable jobs, while the employment of women is stuck at 47 percent compared to the European average of 60 percent. The presenters who preceded here had proposed a practical layout of the specific qualities of the youth and feminine world that Sr. Alessandra had indicated as precious for economic development.
First of all, they are willing to be formed and are flexible, as in the case of Erica from Milan, who after graduating with a formational science degree gave a new face to the human resources center in her father's illuminating engineering business. They have fresh ideas and energy, shown by Alessandra from the Philippines who immigrated to Italy. She not only has established herself in the fashion industry, but has set up a microcredit project to help her compatriots return home. They also are able to risk and live gratuitousness, as Ivan showed. After graduating in economy from Bocconi (Italy), he gave his time to social projects in Brazil and around Milan, even being unsure of any economic gain. "Youth know how to live with great ideals, often put aside 'because it has always been done like that'. But their innovation and creativity can only be developed if they are welcomed by an environment in which they can flourish."
Even those feminine qualities, like intuition, are often crushed in an economic context which gives males the privilege, observed Sr. Alessandra. "And yet," she said, "a study done by Leeds University shows that a business with females in leading roles are 20 percent less likely to be sold, and if the feminine component surpasses 30 percent, it is easier to reach organizational excellence." The key to business development, therefore, lies "in the complementary quality and harmony between the feminine role and the masculine one." To deny even the common thought that women who work do not have children: rather, meager employment seems to be related to the low birth rate, which can be changed only with adequate politics and support of the family.
The debate that followed was rich and well participated. The comments expressed, above all, the need for a support network for entrepreneurs (male and female) who are willing to being the adventure of an EoC business, and that such a project also involves employees to be able to fully function. "However, we need to keep in mind," said economics professor Luigino Bruni, "that the EoC is still relatively young, but charisms have longer time frames, and we have to have the patience of those who do great things."
Conclusions included a presentation about the next appointment in Brazil for the 20th anniversary of the EoC, by Benedetto Gui, as well as the president of the EdC SPA of the Lionello Bonfanti business park, Eva Gullo. "Write us your impressions," she said, "because the Polo is home to all entrepreneurs." Until next year, while keeping in mind, as Bruni put it, "that life is not a break between one convention and the next, but life begins when the convention is over."