EoC Entrepreneur Alexis Mupepe Kashiama's testimony from Kinshasa
How do we live the EoC in our enterprise? This question that is a fundamental one for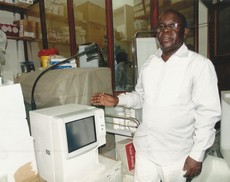 the entrepreneurs of the Economy of Communion, keeps returning in our EoC training sessions, too. Our company COALEX-MEDICAL is an enterprise that belongs to the Economy of Communion by vocation, and in these few lines we would like to share with you how we live this vocation in our company.
Looking closely at the new challenges that entrepreneurs are facing these days, we would like to stick to the various virtues that characterize the EoC, and especially to sharing and putting the person at the centre to promote their integral development in society.
One of my colleagues was concerned about the financial situation of his family: after several instances of confrontation with him I ended up telling him that if the salary
was barely enough to feed his family, than obviously some other family needs (housing, children's education...) would remain unsatisfied. I suggested him to reflect on the creation of a business of his own that would be in line with his training, so that he should be able to manage it himself, and also to come and talk to me.
He pondered about this for a long time, but then he proposed to me to set up a laboratory for biomedical analysis with him. I said yes, but not to becoming his partner. Instead, I agreed to accompany him in the realization of his project: so I put a semi-analyzer for biochemical analysis at his disposal and some reagents, too, that are required for the beginning of his activity; we are talking about a device that costs $ 4,500 to purchase, but I granted it to him for $ 2,800: up to this day I have been paid $ 1,100, and I will get the rest gradually in order let his small business develop. Meanwhile he has hired two other employees as laboratory technicians. This way, although continuing to work in my company, this colleague of mine became an entrepreneur himself.