EoC entrepreneur Gonzalo Perrín's experience told at the Universidad Nacional de Rosario (Argentina) during the event: "Subsidiarity: An Entrepreneurial Commitment".
by Carolina Carbonell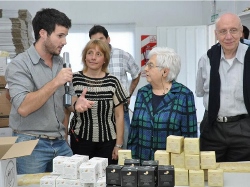 Gonzalo Perrín would never have imagined becoming the manager of a company producing biscuits at the age of only 29. He did his studies and was preparing to work in the hospitality industry but when he got to know the EoC, he felt contaminated by its philosophy and did not hesitate to leave everything behind. Today he is the director of the company named Pasticcino, a factory inside the Polo Solidaridad where 2.500.000 biscuits for coffee are produced monthly to be then distributed to 25 chain stores. Actually, at the moment there are plans to set up a branch office in the Polo Spartaco, in Sao Paulo (Brazil).
Last Thursday, on 23 October 2014 Gonzalo attended the presentation of the EoC at the Universidad Nacional de Rosario (Argentina), as part of an event that was entitled: "Subsidiarity: An Entrepreneurial Commitment".
He started his talk by saying: 'In 2008 I gave up the job I had in Rosario and I went back to my country, to O 'Higgins, to make "cookies" at home. I spent several months to set up the warehouse and purchase the necessary equipment.'  What did you see in the EoC? When they asked him the same in an interview with McDonald's (as a potential customer), he replied: 'Here I have friends who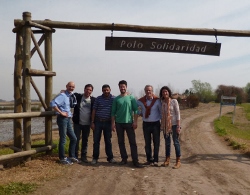 love each other, you see them happy together and this means that they are successful in what they do and in their lives...'
From this point on, one surprise was followed by the other in Gonzalo's life. The experience with Charly was a special chapter: he is a blind assistant of his, who, from being a box assembler has become his friend and one of the leading consultants. Once, a person who was visiting the factory asked him if he had calculated the additional costs that having this employee meant. Gonzalo, who follows the accounting in his company personally, replied: 'Yes, it is true that it costs more, but what you do not see in the budget is the enormous wealth that Charly represents for the ideas that we share, for the proposals that emerge when we are together and the positive atmosphere that he has generated among colleagues, all of which cannot be measured but altogether it is a real gain.'
Gonzalo also talked about what he does with the profits Pasticcino makes: 'We divide the profit into three parts according to the EoC principle; at times we had to ask for money from the bank in order to make our contribution to the EoC.' Perhaps someone could ask whether the sacrifice is worth it and if it wouldn't be nicer to have a good car, a house of one's own or just travel more... Gonzalo is very clear about this: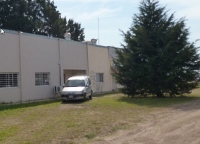 'Yes, it would be nice. I travel with my Berlingo (that sometimes seems like a wreck) and when I get in the car of my friends I often say "what a beautiful car!", But then I do not think I am missing anything, I have everything I need. The most important things in life are the ones you cannot buy with money. The most valuable things are the relationships I've built over the years. I do not know how long the company will live, 10 or 100 years, we'll see; but even if it ends one day, the relationships and all that we've lived together will remain. These are the most valuable assets I have.'
When asked what he would say to other young people who wish to partake in this culture, Gonzalo replies: 'Look, I'll tell you something personal. I've been trying to sign a contract with a large company for a long time, but it has not been possible, even though we've had five meetings already. Ten days ago I had a sixth meeting with one of the leaders, and there emerged a small chance. The fact is that I have lived in the past ten days as a madman, I've been very anxious, looking at my cell phone all the time, and I've asked myself a thousand times if I should call or send an email. Yes, just like lovers. Last Saturday was the birthday of my father, the whole family came to my house, my 82 year-old grandmother was also there. When I talk with someone I like to tell things in depth, so I decided to tell my grandmother everything that was happening to me, and I did that in really deep detail... You know what she told me? Don't worry. Gonzalo, don't worry, because if the contract does not go ahead with this company then it is for a greater good. The truth is that I do not know how or why, but from that moment I have felt completely at peace and I have not looked at the phone as before. To the young people I say this: do not be afraid to throw yourself in, have confidence; you won't regret. Temptations will always be there, but it works, I swear to you that it works and you will find happiness.'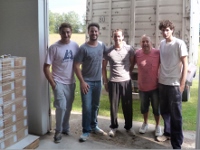 Monday 27th I wrote an email to Gonzalo to thank him for having accepted my proposal to go public together to tell about the EoC experience. On Wednesday, 29th the answer that arrived in my box went like this: 'Ciao Carolina, it was really nice, I'm glad I came!!! Let me tell you something: yesterday was the birthday of my grandmother Angelita. On the day of her birthday I received a long-awaited call from this customer who told me that they have approved us as their supplier!!! Go Pasticcino!!!'
I could hardly believe that... Once again, the treasure trove of heaven opened up. That treasure trove that only opens after an act of gratuitousness. And therefore it brings happiness.
To give and receive... to give again... This is the EoC.