Through his expertise and his great humanity he made an inestimable contribution to Polo Spartaco, which is a global model to follow now.
published on anpecom.com.br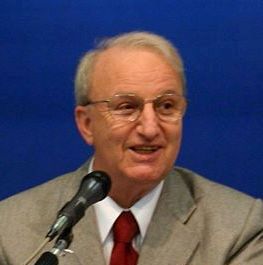 Thinking of the Economy of Communion in Brazil we cannot help associating it with his first entrepreneurial centre, the Polo Spartaco. . And you cannot talk about this pole without mentioning João Carlos Pompermayer. He passed away on 2nd July in Bento Gonçalves-RS, where he lived.
What imprint has he left after more than 20 years of dedicated work in the enterprise of the birth and development of the Polo? Let's pass the word to those who had a greater share in this adventure with him. Their testimony is intended primarily as an expression of gratitude to all those who believe and live for an Economy of Communion.
Maria do Socorro Pimentel: "João Carlos was a strong and brave man, with firm convictions and great professional skills. He conveyed a sense of security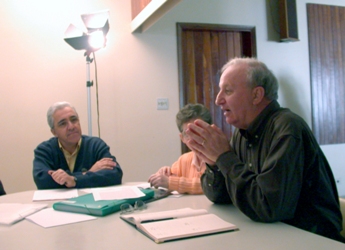 to those who worked with him. He knew how to fight and argue without fear of standing up for the truth. He thought high of Chiara Lubich, the author of the Economy of Communion project and its first protagonist Ginetta Calliari, so he listened carefully to their words and put them into practice immediately, without "ifs" and "buts". He fought for this cause, facing many difficulties. He was tireless. For more than 20 years, he came to attend the meetings of ESPRI every month and so he followed the work of the Spartacus Pole from close. This commitment was so important for him that, as he often said, it was a priority for him. Through his expertise and his great humanity he made an inestimable contribution to Polo Spartaco. For example, he was the author of the first draft of the Internal Regulations of the Pole: a job done so well and with so much care that it was almost entirely incorporated in the final version. Despite his expert knowledge, João Carlos always put himself in the last place; he always valued and paid attention to other people's suggestions."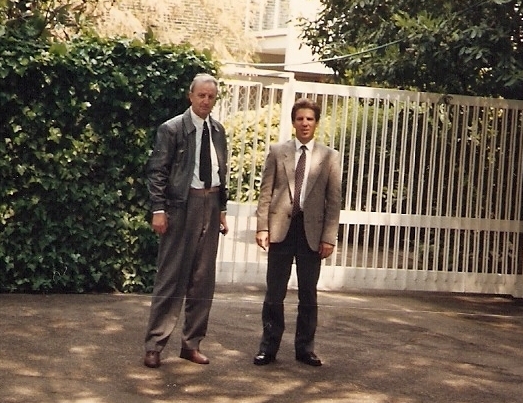 Antonio Carlos Cardoso: "I had the opportunity to meet João Carlos in 1990 for the first time. There was a strong affinity between us because of various traits that we had in common. After a few years we met again at ESPRI. For 14 years or more, we met every month to follow the activities of the Pole and we exchanged e-mails. I was struck by the seriousness with which Joao Carlos devoted himself to the activities and projects of ESPRI. From the works he presented you could imagine how much time he must have dedicated to them."
Alberto Ferrucci: "I remember when the time came to "really" start building the Spartacus Pole, and Ginetta asked me who I think should be invited to take such a challenging task on their shoulders. Knowing how much it was, in fact, I said: you can only ask an experienced entrepreneur who is also the father of a focolarina(*). I put it this way because I wanted to make a joke, knowing from experience that a father can never say no to a request by his daughter. I did not know then that João was a great entrepreneur, but two days later he already arrived in Mariapoli after travelling two thousand miles in flight from his place; he was there, readily available because his daughter asked him to come, to realize what we were dreaming of together. I immediately felt a true fraternal communion. He carried out this task for over twenty years, dedicating all his talents to the construction of the Pole."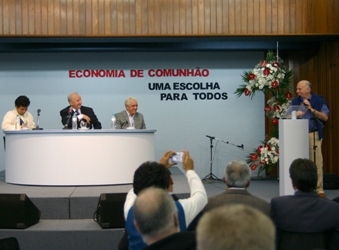 Armando Tortelli:"I was always impressed by his testimony and his love for the EoC which was expressed in concrete facts that were never showy. His presence at the Polo was surely not passive, instead, it was very active, a great contribution. Standing alongside João Carlos meant to always learn, and not just because of his expertise. It was an ever more "contagious" school of life.  To think of the Pole without João Carlos now is almost inconceivable, but we'll always remember his example and dedication."
Ricardo Faria: "To talk of João Carlos is to talk of the EoC in Brazil, from the very beginning. I got to know him when the first steps of the design of the Polo were being made.  He had all the right qualities to take up the entire technical part of the project: he was an expert, he was humble, he listened to everyone, he was sure in his arguments. Even when I had already left the Board of Directors, he called me "my President." Each time it was a great joy for me to meet him because of the friendship and esteem that always brought us together and that will go on. Surely no one can take away the "saudade" I feel right now."
Carlos Alberto Ferrari (current president of ESPRI): "Recalling the beginning of the EoC, the events at the time of the purchase of the land where later the pole was built, and all the meetings that we did together, I cannot say anything other than João Carlos was a man with a capital M, a gift of generous love, helpful, lovable, a refined character, in short, a brother!"
We conclude with Rodolfo Leibholz, who shares the same faith and spirituality that animated João Carlos. His is a special tribute in the form of poetry: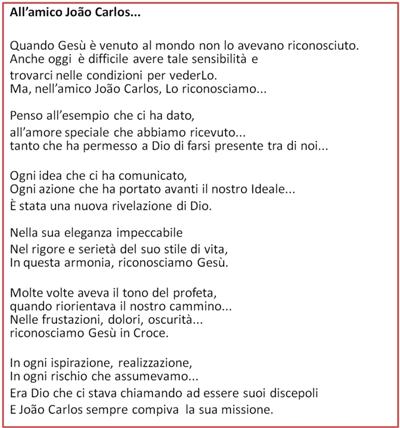 (*) The term comes from the name of the Movement of the "Focolares" that derives its name from "focolarini" (small hearths). Members live in small communities of lay people - the hearths - that are at the core of the Movement. They strive to keep alive the "fire" (fuoco in Italian) from which the name "focolare" derives.